It was a relaxing Sunday morning ride. At the last Pulsarians makan session, I was chatting with Angad and told him that I would love riding up north but as I'm still considered a "new" rider, would prefer nothing too challenging. So he recommended a quick trip to Renggam via Layang-Layang. According to Waze, it's only an approximately 1.5hr ride each way. So that's it! It was planned for the Sunday morning – returning to Singapore just as about the time the Missus and little one get out of bed.
So I punched in the route on my iPhone Waze app and off I went! The morning ride was beautiful! Low traffic, nice cool air, and awesome views! If you were looking for twisties, this route is disappointing. But instead, it's got very nice, long, straight, gravel-free kampung roads that goes up and down. Great trail for a newbie rider to get some easy riding fun.
It took me less than 2 hours to get to Renggam, and another about 2 hours back to SG. Left Singapore at about 6:40am and reached home before 10:30am. I didn't stop for breakfast at Renggam this time, as I had breakfast waiting for me at home.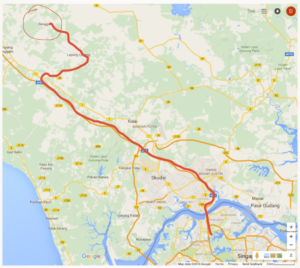 Note to self though – next time, come back via the Second Link. The motorcycle lane on the Causeway was a little heavy on the return trip. It was quite a wait, although nothing unbearable – I hate queues.
On a scale of 1 (being easiest) to 10 (being toughest), I would rate the technical challenge of this ride a 3 – if you're not used to crossing the border to Malaysia, and a 2 if you've been to Malaysia before. Although the roads are generally free of pot-holes and gravel, they're mostly single-carriageway, which means that if any impatient a****le wants to overtake, you can sometimes get quite close to a speeding madman.
Will I do this again? Absolutely! But I'll want to try other routes first!