11 Jul 2016, Monday. If you've been following my adventure tracks so far, you might have guessed that I'm trying to head into Laos. So I woke up early this morning in anticipation of the typical border hassles, especially at these relatively remote borders.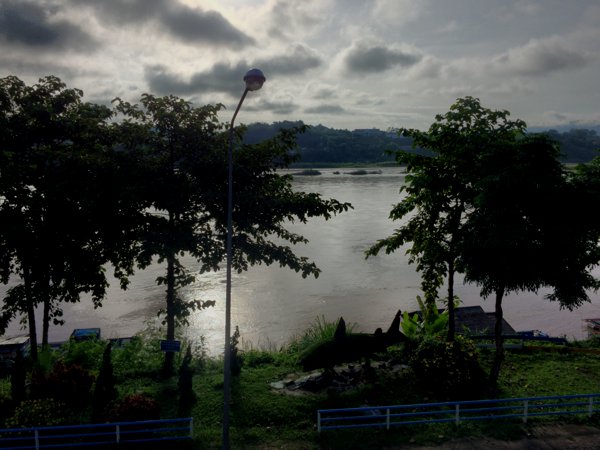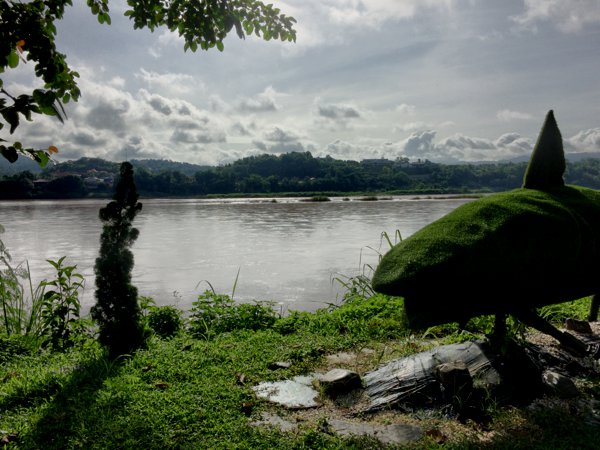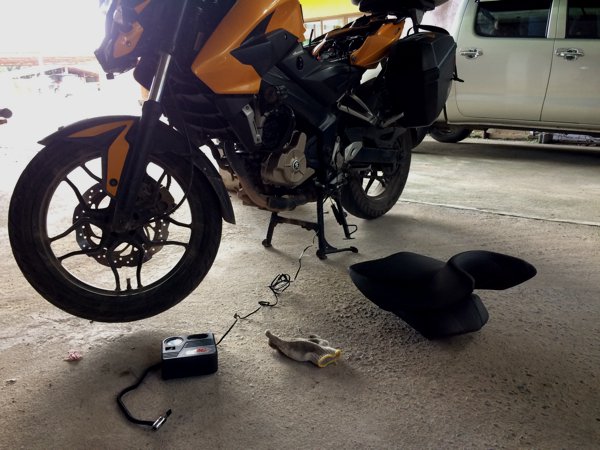 Since I was in Chiang Mai, I used the Chiang Khong – Huay Xai border, aka Thai-Laos Friendship Bridge IV. Here's what happened:
Chiang Khong (Thailand)
Went to immigration counter. Was asked for passport AND "bike immigration papers".
I only had the bike's (temporary import) customs papers. I was never issued the bike's "immigration papers" at Sadao (the Thailand side of the Malaysia-Thailand border).
Immigration office shook his head and asked to to head inside the main immigration office for assistance.
Main immigration office's officer shook his head and said something in Thai – seem to be blaming Sadao for incomplete paperwork.
He said, "I do paperwork for you." So he proceeded to fill in the incoming AND outgoing "bike immigration" paperwork. Gave me both copies. 200baht WITH official receipt, plus 20baht for photocopying my passport and driving license (first time I was ever asked for my driving license).
Went back to immigration counter to complete passport exist visa and handed the outgoing "bike immigration paperwork". I kept the "incoming" copy. Was asked to pay 200baht, but I insisted that I already paid the 200baht inside the main office and waved the receipt at him. He waved me off without collecting the money.
Immigration escort required 500baht to escort me to the Laos border. Paid him.
Moved ahead to the customs counter. Surrendered my bike's "temporary import customs" papers. Demanded 100baht from me. I asked for receipt. He said no receipt. I insisted that I need a receipt if I have to pay the 100baht. He finally said, "OK. No problem. I give you service." and shoo'ed me away. Scum!
Followed Thai Immigration escort vehicle over to Laos border. It was a truck with the word IMMIGRATION printed in bold and the Thai flag on it – so I guess it must be an official vehicle.
Huay Xai (Laos)
Went to immigration counter. Was asked to fill in immigration arrival / departure form.
Filled up the form and returned it to the immigration officer together with my passport. Gave me 30days visa without asking. Was asked to pay 200baht. I asked for receipt, and he initially said no receipt. I insisted for a receipt and he grudgingly gave me one. Serial no 00004. I think I was the 4th guy in the history of this immigration counter to successfully obtain a receipt. I'm not even sure how official this fee is.
Moved forward a little more and reached the Laos customs counter.
Was asked for the Thai bike exit paperwork. Gave to counter lady. She informed me that she could only give me 15days of permit for my bike. But I told her I've got a 30-day passport visa, and requested for a 30-day bike permit. After some long delay with multiple conversations with her superior, yet still ended up with 15-day import permit.
Customs demanded a 100baht fee. Again, I asked for receipt. He said "no receipt". I insisted. He then pointed to the bike import permit papers and said, "this is receipt" and sort of signalled that he was about to take that back if I don't pay. I paid the 100baht.
Welcome to Laos. Total bill – 1,000baht.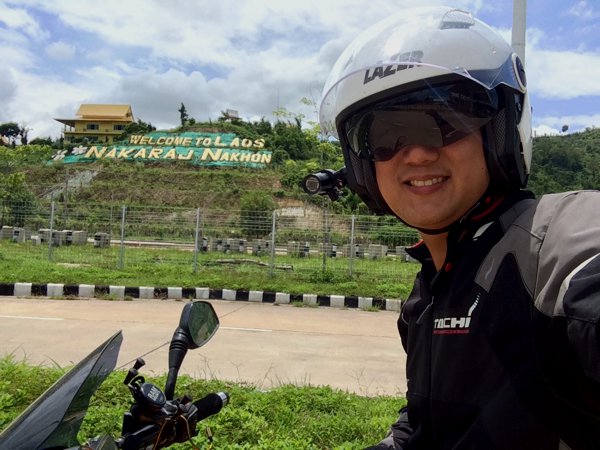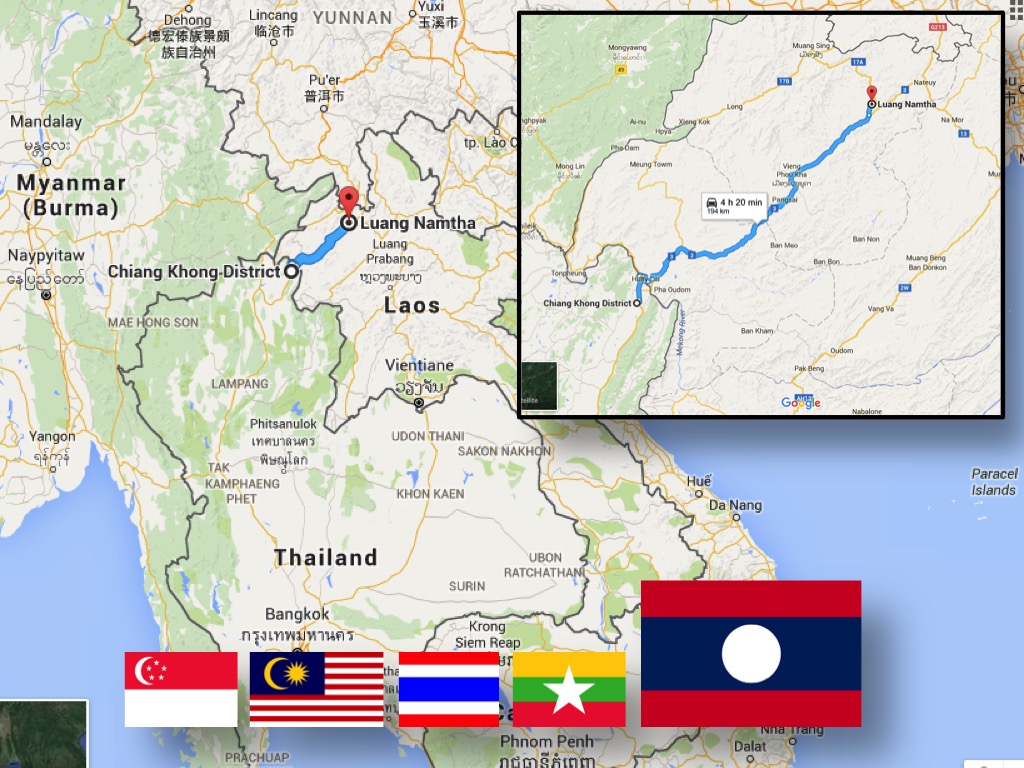 I needed some Laotian Kips, and so I rode to Huay Xai town – which is about 10km from the Friendship Bridge IV – in search for a bank. The notes here are ridiculous – I whipped out 200USD and got back over 1.6mil kips. I'm Laotian a millionaire! Feeling rich now!
Of course, the first thing I noticed when I entered Laos is that they now drive on the right side of the road. I had better get used to checking traffic from the correct side. Thankfully, traffic from the Friendship Bridge IV at Huay Sai border to Luang Namtha was very, very light. I think I spotted more heavy trucks than passenger vehicles.
Next, if you thought that the roads in Thailand were bad? Loas' worse! The roads here are so laden with potholes – some of which were as large as my entire chest, and some as deep as 2 to 3inches – that it's practically impossible to avoid. I don't think they're termed "potholes" – they're practically "mini sinkholes!" So I had to brace myself every now and then. Potholes aren't the most fearful stuff on the road – it's the uneven road surface that runs PARALLEL to the road. Imagine a newly paved road surface. Now imagine that before its cured completely, trucks start moving on it, making depressions on the road. And then cars of varying tire widths also follow these tracks – effectively creating a somewhat rounded ditch along the road. And if the 2-wheeler bike gets into one of these "ditches", you start to wobble like hell. Made worse is that you'll find it extremely difficult (if not sometimes practically impossible) to get out of the ditch, as we all know to never attack a raised surface at less than 45deg, much less at an angle close to 0deg! Welcome to Laos roads!
Apart from the poor road quality, the view here in northern Laos is splendid! If you liked northern Thailand, you'll absolutely love northern Laos! Scores and scores of greenery, carefully manicured paddy fields, and flanked by mountain ranges. I'm not sure if there's Spring here in Laos, but if they do, I'm absolutely certain the flower bloom will make turn this place into a mini paradise!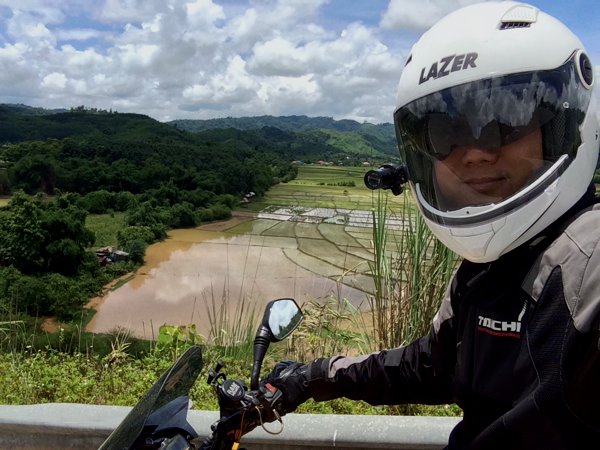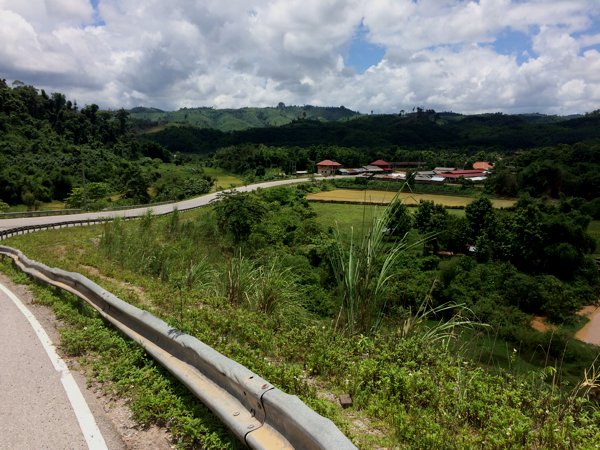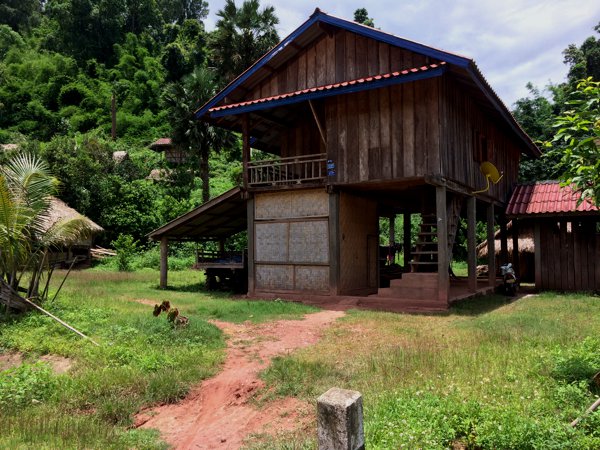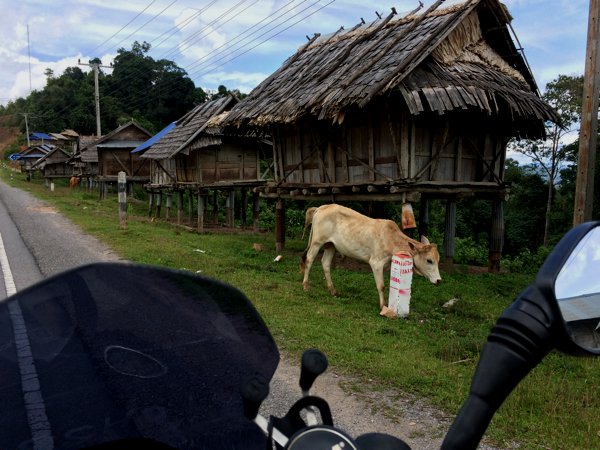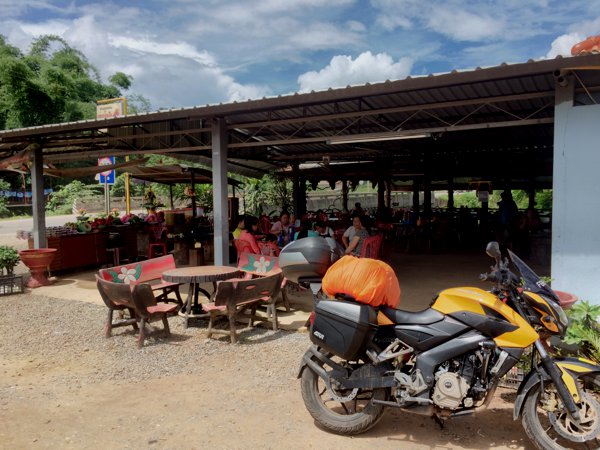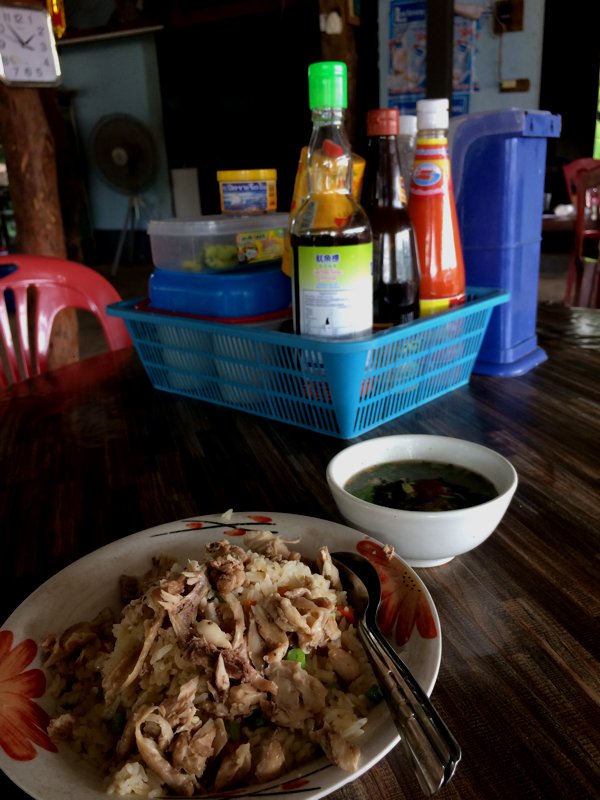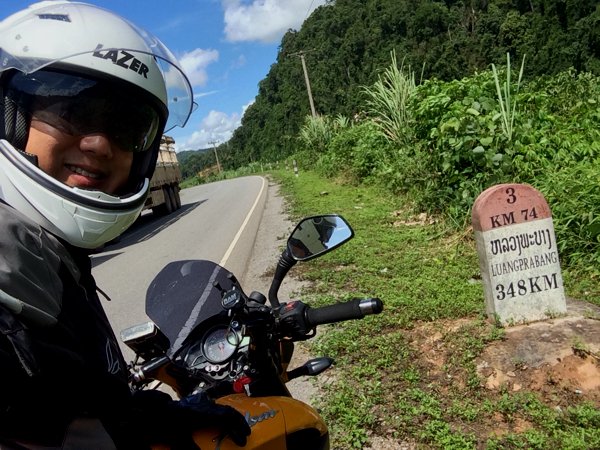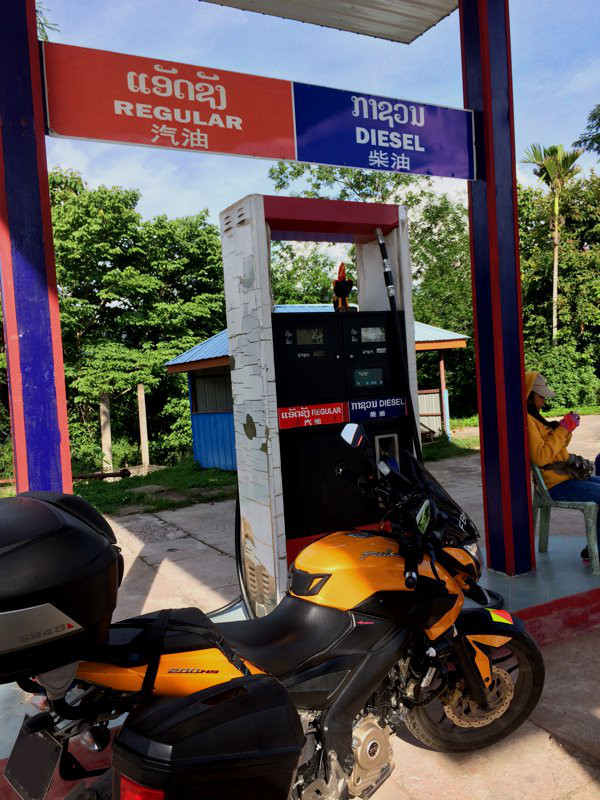 Northern Loas seem untainted by tourism. The towns (more like villages) you find along the highway are nothing like those in Thailand. No guest houses, no nice restaurants, no advertisement signboards. Just basic wood and bamboo dwellings with very light touches of concrete. In most places, as you approach a major town or city, you'll start to see buildups along the way. Human settlements tend to start around towns and cities and than expand outwards. But there was none here. So when I was approaching Luang Namtha, I was getting worried. Is this really a "major town"? Will I be able to find accommodation?
Finally got into Luang Namtha, and yes – I did manage to find a decent hotel room for 100,000kips a night. Luang Namtha is a sleepy town in northern Laos that's very near the Chinese border. They don't even have a supermarket here.
So it's been 2 days since I collected my repaired Pulsar from Chiang Mai. And because it's a rebuilt engine, I'm aware that I'll have to do my engine oil change soon. Checked my odometer, and I've done exactly 555km since I collected the bike. In Thai, the number 5 is pronounced as "hah". So 555 = hah hah hah! Oh! But I just realised I'm now in Laos, not Thailand.