I don't have a plan. Only a sketchy idea in my head. I just want to ride.
As I shared my plan to ride, most were surprised. Some were skeptical. Many thought I was just plain crazy. Yes, I intend to make a trip up north, quite very north.
"People who say it cannot be done should not interrupt those who are doing it."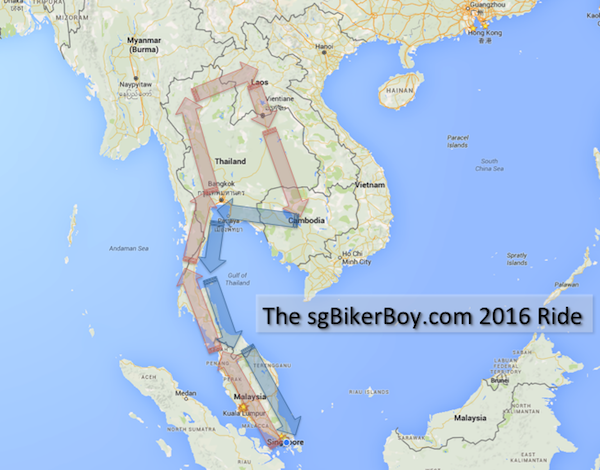 The Mae Hong Son loop near Chiang Mai, Thailand, is on every motorcycle enthusiast's bucket list. With more than 1,800 turns and twists, it's never a boring stretch. Ever since I've heard of the Mae Hong Son loop, I've been dreaming of doing it on a motorcycle – my own motorcycle. And now that I have some time on hand, I thought why not!
And since I'll be up in Chiang Mai, I thought I'd also take the opportunity to tour the region. And so the crazy idea of doing a 5-country tour on the bike struck me. Singapore, Malaysia, Thailand, Laos and Cambodia. I'm giving Myanmar, Vietnam and China a miss as my research suggests that trying to enter these countries on a foreign-registered motorcycle is, while not impossible, difficult and messy. It'll involve applying for some pricey permits prior or hiring some mandatory escorts. No thanks. I'd rather be travelling on my own.
Although the adventure spirit fills me, it appears that odds are against me: Continue reading "The sgBikerBoy 2016 Trip!"