My set of Michelin Pilot Streets have done some 17,000km's, including the horrible roads during my SE Asia tour. The ultra uneven Asian road surfaces that I've travelled on has taken it's toll on these excellent tires. In fact, when I was in Penang, a fellow biker pointed out to me the unusual wear on the rear wheel (I was in a Givi store then and showing him my Pulsar 200NS). While on the centre stand and as the rear wheel spins, the outer circumference of the tire actually "shimmies". (I later learnt that it's probably "scalloping" or "cupping" – perfectly normal tire wear pattern.)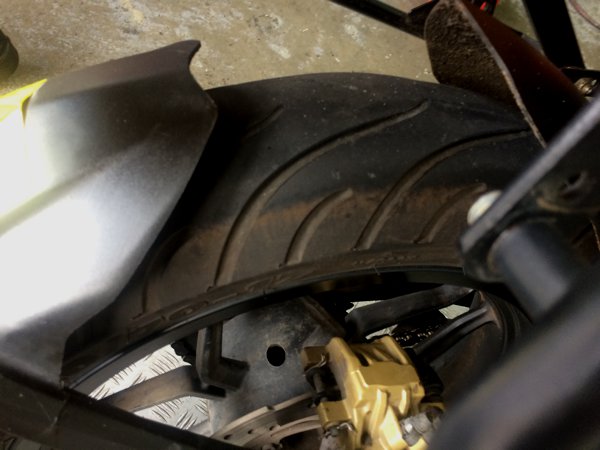 Anyway, it was time for new tires, and Unique Motorsports was running a promotion on the Pirelli Angel CiTy. A set of 110/70R17 front and 140/70/R17 rear went for SGD155. The Pirelli Angel CiTy or Angel CT was designed by Pirelli specifically for the Asian "small bikes" market – targeting at bikes around the 150-300cc range – who wants to upgrade from the OEM tires. The thread pattern and tire design was inspired by and derived from the Pirelli Angel GT, renown for it's touring capabilities. But the Angel GT's were built for bigger bikes. The Angel CT was also specifically designed for the "Asian roads" – being able to take the abuses of the various uneven roads that rural Asia has to offer. Pirelli promises a robust carcass design, high durability on any kind of road, and extended mileage on the Angel CT. Think of the Pirelli Angel CT as a set of touring tires for the smaller (up to 300cc) bikes – perfect for my Pulsar 200NS!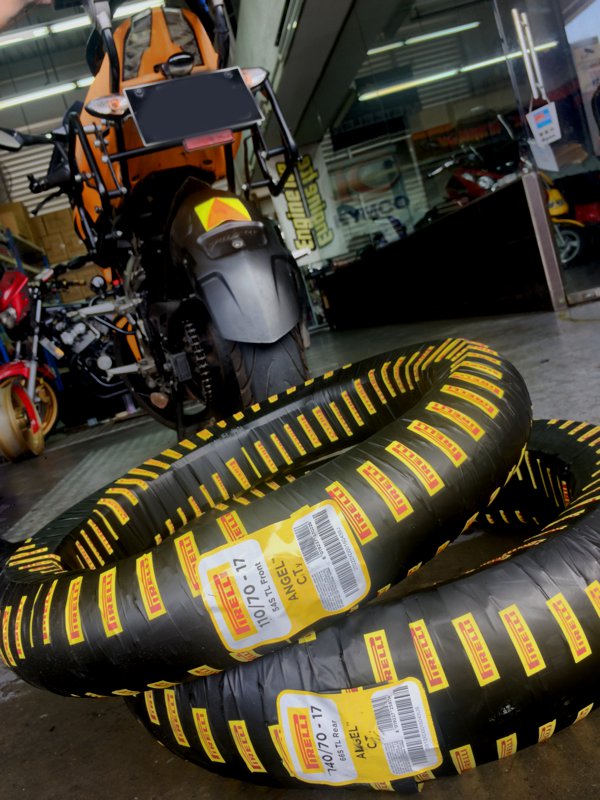 Since installing the new set of tires, I've ran it for over 1,000km, including the recent run to Kuala Lumpur, through the rural mountainous roads leading up to Bukit Tinggi, the climb up to Genting Highlands, and of course sprinting on fantastic stretches of the excellent Malaysian North-South Highway (NSHW). I have also done a very similar trip to Cameron Highlands, Ipoh, Malacca and on the NSHW on my previous set of Michelin Pilot Street just a week earlier, so the feel of the Michelin was still fresh in my mind and that makes comparison of the tires easy.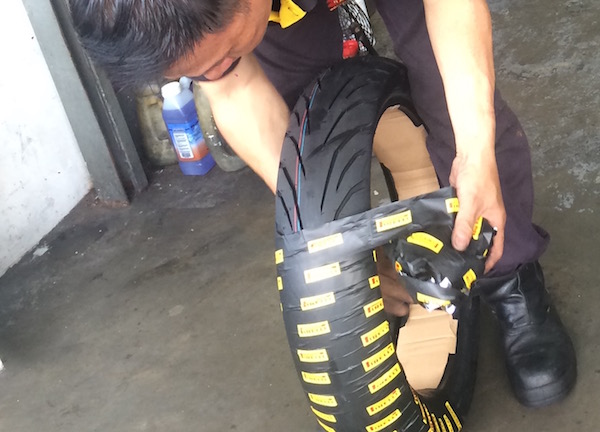 Admittedly, I'm comparing a set of used tires (Michelin Pilot Street) with the fresh Pirelli Angel CT's. But the Michelin's were not totally worn and still had a little bit of life left in it before hitting the thread wear indicator bumps. Anyway, here are my thoughts…
I LOVE IT!
True to its original design intent, the Pirelli Angel CT was built for Asian roads. Compared to my previous Michelin's going over bumps, potholes and uneven road surfaces that are so common in the more rural parts of Malaysia, the Angel CT's felt a lot more "compliant" and "soft" – which was very surprising, given that they are supposedly built with a "robust carcass design" for "high durability" on the Asian roads. I definitely felt a lot more confident taking corners on the Angel CT's as I negotiated the bends of Bukit Tinggi and Genting Highlands.
What about wet performance? Admittedly, I didn't quite get to properly test the Pirelli's in heavy rain (yet). But I did get to run it on slightly wet roads on that final stretch of NSHW and leading into Johor Bahru where the road was still moist from the earlier rain. And the Angel CT's took it on with no issues.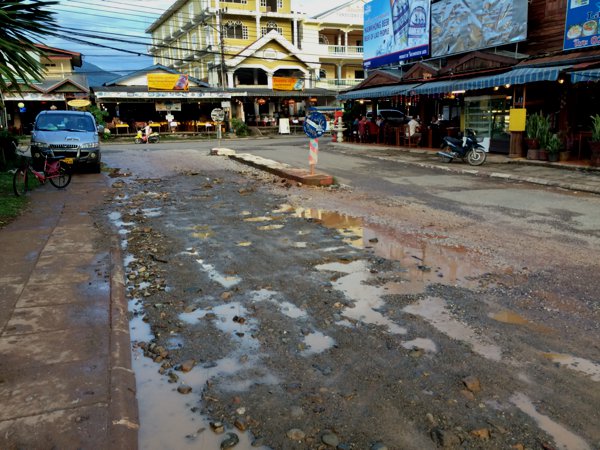 One notable performance of the Angel CT was going over lane markings. It's typically dual-carriageway on the NSHW, and I usually keep to the left lane unless overtaking. And in instances where there's a slower moving truck in front of me, and my right mirror tells me that a crazy car is coming in from the overtaking lane at 200kmh, I take advantage of the road shoulder to overtake the truck. The divide between the road shoulder and the main lane is a continuous white line. Riding a 2-wheeler over (and especially on) this parallel continuous white line can sometimes be unnerving as this painted line offers far less grip than the asphalt road. I recall that with my Michelin's, I sometimes feel a slight wobble when I go over these divider lines while the Pilot Streets fight for grip. But the Angel CT appeared to be indifferent to whether it was a painted line or asphalt, and I had very much more confidence crossing these lines on them. I'm impressed!
"But, but, you're comparing fresh tires with used ones. Of course the fresh one has better performance."
That may be true. But I'm also comparing the differences I feel when I slap on the new Pirelli's vs the old Michelin's with the difference I felt when I had the (then) new Michelin's replacing the (24,000km) used (and rather poorly rated) Eurogrip's that came stock with the bike. I'm definitely more impressed with the new Pirelli vs old Michelin difference than the (then) new Michelin vs old Eurogrip difference.
I have never taken (and probably will never take) my bike to the tracks. It's just not my kind of activity. And if challenged at the traffic lights to a race, I'm the sort of person who will feed the ego of the other rider and let him fly ahead while I take my time to enjoy my ride. So racing or track tires don't suit me. Yes, they are (very) grippy. But you generally exchange that for significantly faster wear. I'm more of a tourer. I'm more of an adventurer. And I'm definitely a city commuter. At SGD155 a set of front and rear rubbers, the Pirelli Angel CT's are arguably some of the best value tires for a mid-small (150-250cc) street motorcycle on the Asian roads. And probably some of the best tires for an Asian adventurer tourer on a mid-small capacity motorcycle.
And definitely some of the best tires for me. =)