So, you've explored the many places Malaysia has to offer, and now want to ride your motorcycle up to Thailand? Does the thought of the travelling overland beyond our immediate northern neighbour send a little tinge of fear down your spine, but at the same time ignite a strong sense of adventure inside you? Fret not! This guide will help you prepare your next adventure up to the Thai border, and beyond.
The most popular overland border for Singaporeans (and many Malaysians) to get into Thailand is the Bukit Kayu Hitam (Malaysia) – Sadao (Thailand) border, mainly because it's at the end of Peninsular Malaysia's main highway – the North South Highway (NSHW). The NSHW connects Johor at the Southern tip of Malaysia to almost the Malaysian-Thai border.
MOTORCYCLE PREPARATIONS
The distance between Singapore and Sadao is almost 850km. And depending on how far your trip takes you, the entire return journey will be at least 2,000km. So please make sure that general maintenance on your vehicle is performed and all components showing early signs of failure is replaced before you commence the trip. Here's a checklist (which is by no means exhaustive) that you may like to use:
Oil and oil filter change. When was your last replacement, and when will your next replacement be? If your bike has a small sump and have a low oil change interval, consider carrying extra oil filters.
Brakes – if your pads are less than 50% remaining, get them changed before the trip.
Chain and sprockets – these are consumables. When was your last replacement? It may be difficult to find replacement parts on the road.
Spark plugs – are they good for the whole trip, or are they reaching end-of-life? These are cheap items – get them replaced or risk getting stranded.
Tires – how much thread do your tires have left? Remember, the roads in certain parts of Thailand (and Malaysia) are not well maintained and take extra toil on tires primarily meant for street use.
I personally carry a tire repair kit (worm type) and a portable electric air compressor in case of a nail punctured tire. If you're going very long distances, consider getting correctly-sized tire inner tubes and tire levers for emergency temporary repairs in case of a sidewall damage which the tire patch cannot deal with. Inner tubes and tire levers are far lighter and more portable than carrying spare tires on your motorcycle.
I also carry spare throttle and clutch cables in case the ones on the bike snaps.
Chain lube, chain cleaner and chain brush. The dusty roads of Thailand requires more frequent chain maintenance than riding on the city roads of Singapore.
Duct tape and 2-part epoxy. These 2 combination seem to fix anything that is broken.
THE RIDE UP
The Malaysian highway leading up to the Bukit Kayu Hitam border is generally excellent. Speed limit on the highway is 110kmh but is rarely kept to – both by locals and Singaporeans. But watch out for the police speed traps along the highway. Almost the entire stretch of the NSHW is dual carriageway, so overtaking slower vehicles and allowing crazy speeding drivers to fly past you is easy and safe. From my understanding, motorcycles are not only allowed to ride on the road shoulder, but also encouraged. This is because scooters in the 100cc range is common in Malaysia, and are considered slow-moving vehicles on the highway. Watch out for stopped vehicles and construction material left on the shoulder though. Personally, I only use it when I have good visibility of what's ahead and I never use the shoulder when travelling in the dark.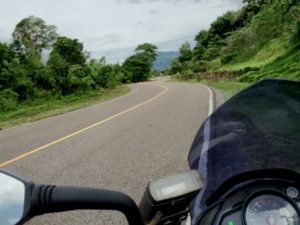 Once you hit Thailand, the roads get a little bit rougher. The main highway roads in Thailand still allow you to do very decent freeway speeds, but it's peppered with a lot more ongoing road works which may occasionally turn a dual carriageway road into a single carriageway bi-direction road.
Both Malaysia and Thailand offer very reasonably spread out petrol stations. Try to refill when you're about 1/4 to 1/2 tank of fuel remaining and you should do fine. And if you happen to hit reserve and still no petrol stations in sight, remember that a little bit lighter on the throttle will give you a lot better fuel efficiency (mileage) until you reach the next petrol station for a top up.
INSURANCE MATTERS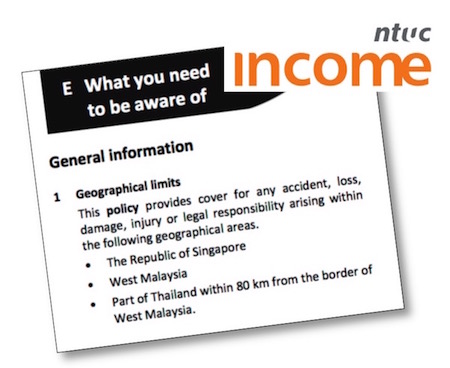 Depending on where you'd like to head to and what existing insurance policy you have, you may or may not have to purchase additional insurance for the bike. But please make sure that you have your own private travel insurance – this is different from the motorcycle insurance. Personally, my motorcycle is insured with NTUC Income, and they do include coverage for up to 80km from the Malaysian-Thai border. If unsure, check your insurance policy document wordings or call up your insurance advisor.
If you intend to head up north further, or if your Singapore motorcycle insurance policy does not cover Thailand, then it's compulsory to obtain third-party insurance coverage when riding into Thailand (although this is seldom checked by the authorities, until you get into an accident, that is.) You have a choice of getting it on Malaysia side or in Thailand. I personally prefer obtaining it in Malaysia, as I was once scammed by the insurance salesgirl on the Thai side.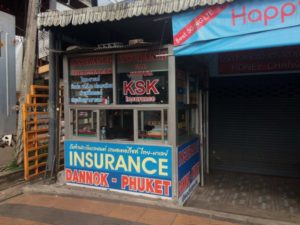 Irregardless, check that the cover is sufficient for your trip, and ALWAYS CHECK THE DETAILS, ESPECIALLY THE DATES on your insurance policy. A common scam is to attempt to sell you a, say, 3-month insurance policy, but in reality, you only get a 1-month one. They execute this by neatly folding the insurance policy and placing it into an envelope and sealing it before handing to you, hoping that you don't open to check it until it's too late. Also, sometimes the months of the dates are printed in Thai – which makes it difficult to decipher if you cannot read Thai. A big telltale sign would be the premium amount printed on the policy document – far less than what you actually paid for.
BORDER CROSSING
Getting into Thailand requires crossing 2 international borders – once through Malaysia, and then into Thailand. Singapore passport holders who have applied for MACS (Malaysia Automated Clearance System) should NOT use this passport feature. Request for an Malaysian entry stamp on your passport. If you do not have this entry stamp, you will be denied exit from the Malaysian immigration at the Malaysia-Thailand border!
There are 7 legal land border crossings between Malaysia and Thailand, and the most popular one that Singaporeans use is the Bukit Kayu Hitam – Sadao border.
Exiting Malaysia at Bukit Kayu Hitam is easy for a Singapore passport holder on a Singapore-registered motorcycle. Just make sure that your passport is stamped for exit. No paperwork necessary for the bike.
Entering Thailand on a Singapore-registered motorcycle (or any other type of vehicle) is a little bit more involved. In Singapore, Customs and Immigration processes are typically so integrated we sometimes think of them as a single department. This is definitely not the case when entering Thailand. When you reach the Thai border, look out for the officers on the ground – they will direct you to where you should park your motorcycle, and this is usually AFTER the immigration and customs booths. So don't worry if you have to temporarily bypass the immigration and customs counters. Just park your bike and walk back to execute the paperwork.
Thailand Immigration
The first thing, of course, is to get your passport stamped for entry. Singapore passport holders do not require a visa entering Thailand. You will need to fill in the immigration arrival / departure card. The arrival card will be retained by the immigration officer, but make sure that the departure card is also stamped.
Next, you need the immigration forms for the motorcycle (or car). There are 3 forms here:
TM3 – Passenger List (typically needed only if you carry a pillion. I never had to use this.)
TM4 – Crew List (only if you carry a pillion. I never had to use this.)
You should be able to obtain these forms at the Thai immigration office, and sometimes the immigration officer will ask for a payment (typically 200 baht) if they help you fill it out. You can also obtain the forms online, print and pre-fill the forms before you reach the border. The forms can be found on the Bangkok Immigration website. You will need TWO copies of each – one set for INBOUND and the other set for OUTBOUND. Most fields in the forms are self explanatory, although there are a few tricky ones:
For the field "Kind of Conveyance" or "Name of Conveyance", insert the BRAND of your motorcycle here. (Eg, Honda, Yamaha, Bajaj, KTM, etc.)
On TM2, in the field "Flight No", fill in "Engine: <your engine serial number>"
On TM2, for the field "Call Sign", fill in "Chassis: <your bike chassis serial number>"
On TM4, for the field "Position", fill in "Driver" or "Passenger" as appropriate.
Present the 2 sets of the completed documents (one for INBOUND and the other for OUTBOUND) to the immigration officer. You will be asked for the following – so please have photocopies ready:
Photocopy of your passport.
Photocopy of vehicle log card. This is to proof that you actually own the vehicle. (You can obtain this from onemotoring.com.sg under "e-Services -> Login eServices for Asset Owners)
Photocopy of your driver's license.
The INBOUND set of immigration documents will be retained by the immigration officer, and the OUTBOUND set will be returned to you. Similar to your passport and the "departure card", check and ensure that the set of OUTBOUND documents have been stamped.
IMPORTANT NOTE – Previously, Singapore passport holders only get a 15day visa when entering overland (30days if entered via air). This has now changed to 30days for both land and air entry. There is a 500baht per day fine and a 1,900baht passport visa extension fee if you overstay – definitely a rather costly experience.
You should be done with immigration. Now, head over to….
Thailand Customs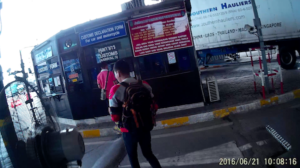 Because you are taking the motorcycle into the country, Thailand considers this an import of goods – albeit a temporary import. So you will need to declare this to customs.
Go to "Customs Declaration Form for Car and Motorcycle" booth. The counter girl will ask for your log card and passport to key in the details and generate a printed form.
Go to "Customs Form" booth just beside the previous counter with the printed form. Hand over the form and your passport and log card (again). They will process it and then hand you the temporary import papers for the bike.
This temporary import permit is generally good for 30-days. Similarly, take note of this date and do not overstay. There is a 1,000baht per day fine for your motorcycle overstaying. Again, check and make sure that the copy of "Simplified Customs Declaration Form" given back to you have been stamped by the customs officer.
The Customs workflow can be found on the Thailand Customs official website here: http://www.customs.go.th
So, once you have the passport, departure card, set of OUTGOING TM2, Tm3 and TM4 forms, and the Simplified Customs Declaration Form – all stamped, then congratulations! Pat yourself on your back! You and your motorcycle now legal in Thailand!
Now, walk back to your motorcycle and commence your northern adventure!
VERY IMPORTANT NOTE: But upon exit of Thailand, remember to return your forms to the TM2 form to IMMIGRATION and the "Simplified Customs Declaration Form" to CUSTOMS. They are 2 separate departments and it is important to return the correct forms to the respective departments. Failing which, you (or your bike) would be deem to have overstayed and attract a very hefty THB10,000 fine!

---
Update 01 Jan 2017: Note that from 31 December 2016 onward, Singapore passport holders traveling overland into Thailand will be allowed to enter Thailand without visa through the land border checkpoints only TWICE in a calendar year. More information on this at the Thai Embassy website.
Update 05 Dec 2018: Good news for Singapore riders! Overland travellers from Brunei, Indonesia and Singapore now have unlimited number of entries without visa application. More information on this at the Thai Embassy website here.