I don't have a plan. Only a sketchy idea in my head. I just want to ride.
As I shared my plan to ride, most were surprised. Some were skeptical. Many thought I was just plain crazy. Yes, I intend to make a trip up north, quite very north.
"People who say it cannot be done should not interrupt those who are doing it."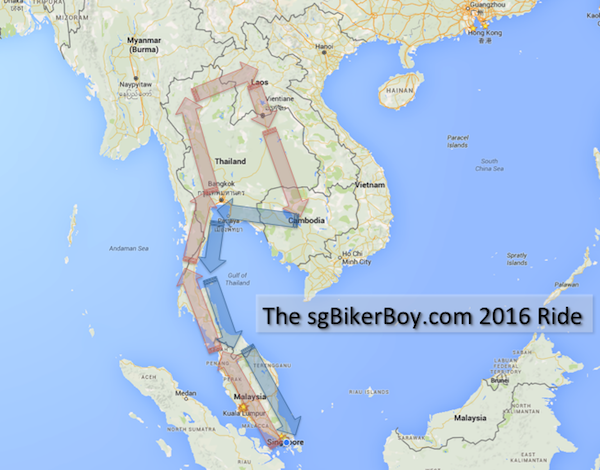 The Mae Hong Son loop near Chiang Mai, Thailand, is on every motorcycle enthusiast's bucket list. With more than 1,800 turns and twists, it's never a boring stretch. Ever since I've heard of the Mae Hong Son loop, I've been dreaming of doing it on a motorcycle – my own motorcycle. And now that I have some time on hand, I thought why not!
And since I'll be up in Chiang Mai, I thought I'd also take the opportunity to tour the region. And so the crazy idea of doing a 5-country tour on the bike struck me. Singapore, Malaysia, Thailand, Laos and Cambodia. I'm giving Myanmar, Vietnam and China a miss as my research suggests that trying to enter these countries on a foreign-registered motorcycle is, while not impossible, difficult and messy. It'll involve applying for some pricey permits prior or hiring some mandatory escorts. No thanks. I'd rather be travelling on my own.
Although the adventure spirit fills me, it appears that odds are against me:
I'm riding a small 2B bike. Many long distance tourers appear to make their trips on machines with 600cc and above. This makes my Pulsar 200NS – a humble Indian-made 200cc single cylinder puny by comparison. Some have suggested that I fly up to Chiang Mai and rent there. But really, that takes away half the fun!
It's a Bajaj. Ba-what?!? Bajaj. Yes, it's made in India and quite very popular there. But in most other parts of the world (including where I'm heading to), it's a relatively unknown brand. Which also means that should a breakdown happen, parts sourcing is going to be a nightmare. Things would be very different if I had a Honda, Yamaha or BMW.
I'm a P-Plate rider. That's "probationary plate". I've only obtained my riding license in January this year. Couple that with the fact that I drive on most days and ride only weekends, this gives me the equivalent bike-on-road experience of about 2 months or so.
It's a 2,500km one-way journey on a stock seat. And that's just Singapore to Chiang Mai. Roughly the equivalent of SG-KL (x7) seven times. I'll estimate the return journey to be approximately 8,000 to 10,000km. And as the Pulsar 200NS was not exactly designed to be a long distance tourer, I'll have to plan for at least 1 maintenance stop somewhere along the way.
I'm doing this solo. Yup! Solo. With a multi-week ride like this, it's not easy to find a group or riding buddy to tag along. So I'll have to do this alone. But I figured that the main advantage is that I get to travel at my own pace and that means true freedom – the very symbol that motorcycle travelling represents!
"Don't let anyone tell you why you cannot do something. F**king do it and make them feel stupid for ever doubting you and prove them wrong."
Some personal thoughts on the impending journey:
It'll force me to get out of my comfort zone. I've never went on a road trip beyond KL. I've always wanted to do Penang but never found the opportunity. But this ride is going to make my previous SG-KL trips seem minuscule in comparison.
It'll force me to make new friends. I'm a natural introvert. And being around strangers make me uncomfortable. But a solo trip is anything but solo. With a travelling companion, we tend to lean on each other and stick to the familiar group. But going out alone forces me to get to know people and make new friends.
I'm probably only get to do this once. Hopefully not. But realistically, having the opportunity of time, health and money to do a trip like this don't come together too often. Like they say, "when young and free, got time and health – no money; when one is at the prime of adult life, got health and money – no time; and when you're old and retired and got time and money – no health."
I'll likely be leaving Monday or Tuesday. Wish me luck! =)