I don't trust the previous owner of the bike.
Just before the handover, he had agreed to replace the bike battery (it died while viewing) and perform a once-off engine oil change. I specifically asked if he used a fully-synthetic oil – and he said YES; though he couldn't recall the oil name (red flag!). So he arranged for tow and got the agreed stuff replaced.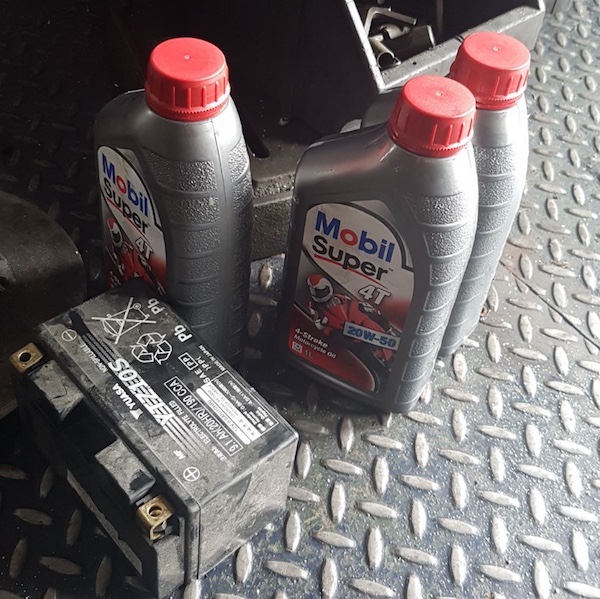 Firstly, Mobil Super 4T is a mineral oil – not synthetic. Next, the manual calls for 10W30 viscosity on the CB400X / CB500X. While I'm comfortable going one grade higher (say, 10W40), I feel that 20W50 is way to thick for the efficient Honda parallel twin engine.
But that's not all. When I lifted up the bike seat to inspect the newly installed battery, it was a smaller, cheaper YTZ7S. The YTZ7S has 6Ah and 130A of CCA (cold cranking amps). Comparing that to the original-spec'ed battery – the YTZ10S has 8.6Ah capacity (43% more) and 190A of CCA (46% more)! No wonder I always had some trouble starting the CB400X engine in the mornings!
Cheapskate!
So I headed to LAB this morning to get my stuff.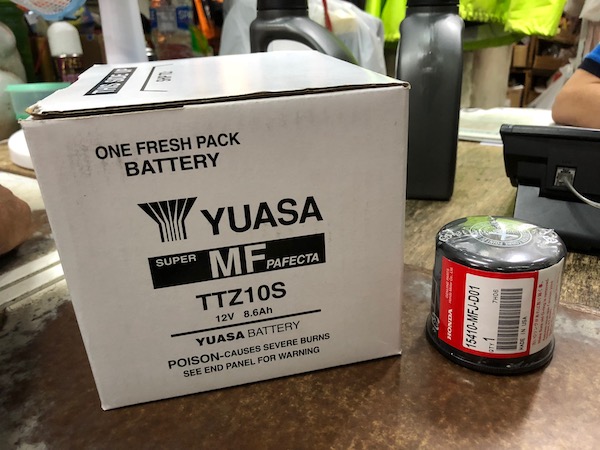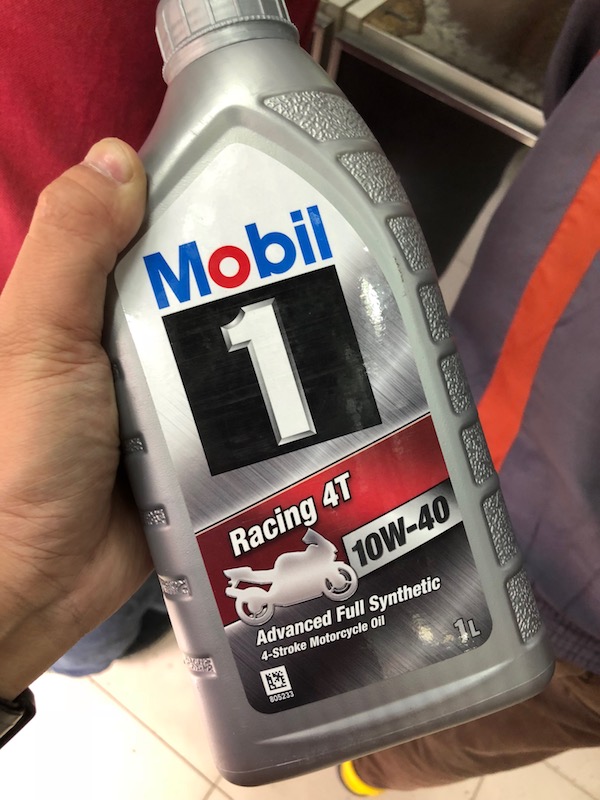 Since I had a bottle of Motul Engine Clean lying around, and precisely because I didn't trust the previous owner in his bike maintenance regime, I decided to perform a one-off engine flush procedure with the existing mineral oil.

So the instructions call for pouring the entire content (200ml) into the engine oil compartment, and allow the engine to run idle for 15 minutes without moving the vehicle. And so I did. And about 15mins later…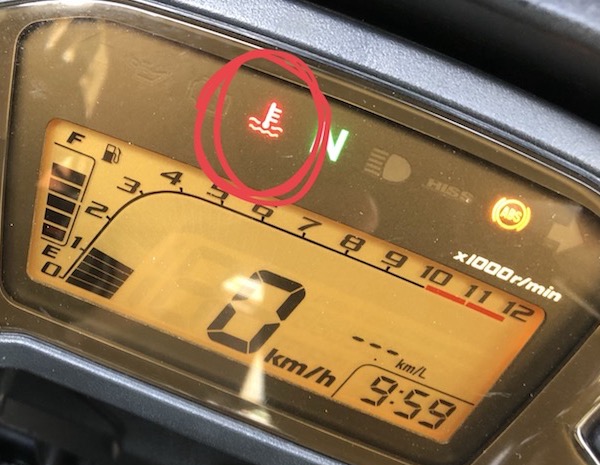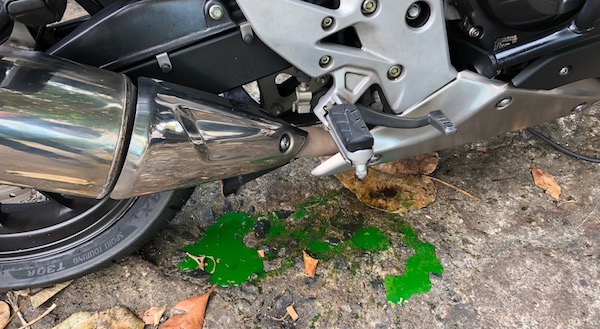 SHIT!
A quick check on the radiator cooling fan, and I realised it wasn't running. And being a Sunday, I probably can't get a mechanic to work on it or even obtain the necessary replacement parts.
And now with this overheating and coolant overflow, I do recall feeling the engine running a little on the warm side. I had initially attributed it to a larger (400cc) engine as compared to my Pulsar (200cc), and thought that the heat was normal. Now I know it isn't. Well, actually, come to think about it, I don't ever remember hearing the fan on the 400X go off – even on a warm day or while climbing up the multi-storey carpark.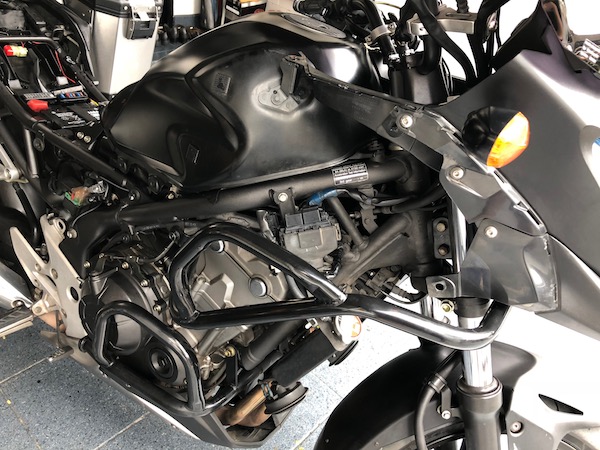 So I rode the bike home in very light traffic (thankfully!), and immediately started tearing down the fairings to start figuring out what's wrong. Of course, there's always a chance of a fan failure or a switch failure. But my initial suspicion (and hope) was a disconnected or loose fan wire connector. I eventually found the connector and inspected it for signs of corrosion or improper seating – no joy. All looked good.
How about a blown fuse? But if so, that would be bad news – as it would suggest a short circuit / high current draw somewhere. So I popped opened the under-seat fuse box cover, and this was what I saw…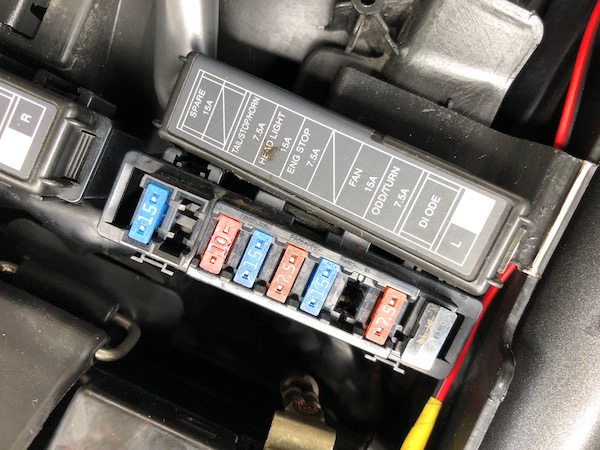 Look carefully…
Again…
Do you see it?
Nope! It's not a blown fuse…
Look again…
See it?
Yes?
Got it?
Right!
Feeling silly, yeah?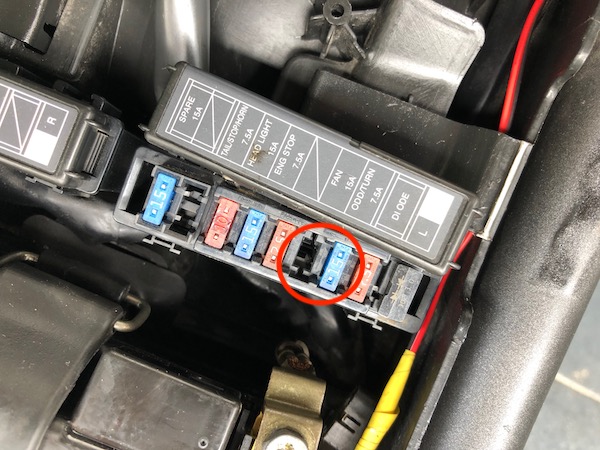 Being familiar (and very particular) with electrical / electronics wiring, I'm absolutely certain that I've never moved the fuse. Somehow, the previous owner / workshop mechanic must have moved it and placed the fan fuse in the WRONG slot!
That is such an unforgivable mistake! Arrrgh!
After moving the 15A fuse back into the correct slot, I started the (now already) cooled bike and left it on idle of 20mins. The sweet sound of the radiator fan came on at approximately the 15 min mark. Ah! The fan, the switch, and basically about everything worked after all! That's the Honda reliability that I've come to know of!
Sigh! What an adventure! Now that I've taken ownership of this new steed, I hope that's the last of the gremlins I've got to deal with on this bike…
And oh yes… I got my rear suspension preload adjusted too. Increased it to compensate for the rider weight (I'm almost 90kg!) and the heavy'ish aluminum boxes.