I was going about my usual day activity this afternoon when my iPhone suddenly buzzed. Turns out, I received a facebook page comment and a private message at about the same time.
The facebook page comment read:
"Please share with everyone the technical details of your finding on this subject!!!! backed up with ISO testing not just you saying this is shampoo."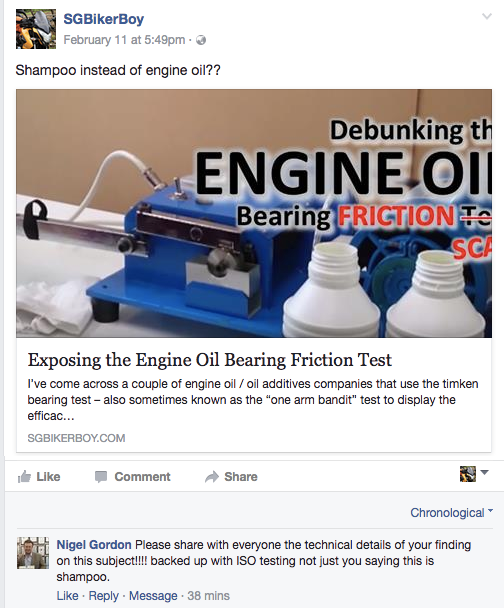 At the same time, I received a private message from the same Nigel Gordon: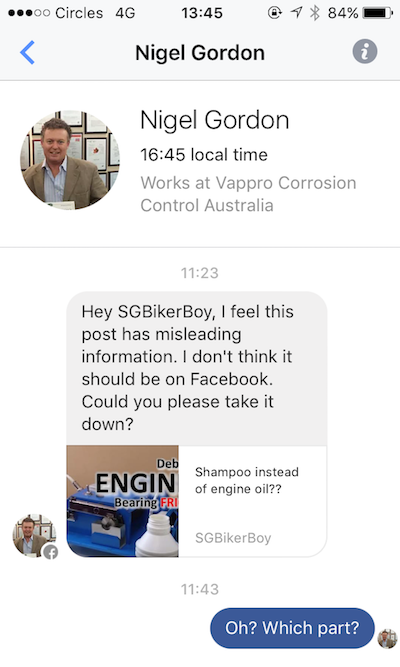 "Hey SGBikerBoy, I feel this post has misleading information. I don't think it should be on Facebook. Could you please take it down?"
Huh? What information was misleading? Being a natural curious, I was GENUINELY interested to find out what and which part of the blog post I published was misleading or erroneous. And so I replied him,
"Oh? Which part?"
Turns out, my previous post exposing the inconsistencies of the timken bearing test and how it can be manipulated by oil companies to mislead consumers have attracted the attention of this Nigel Gordon. And so, since he left a publicly view-able comment on my facebook page, I decided to reply him there too: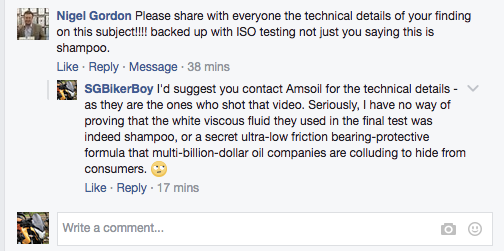 Caught totally surprised by Nigel Gordon's comments, I decided to investigate a little further to find out more about him. Turns out, facebook has a wealth of information about an individual: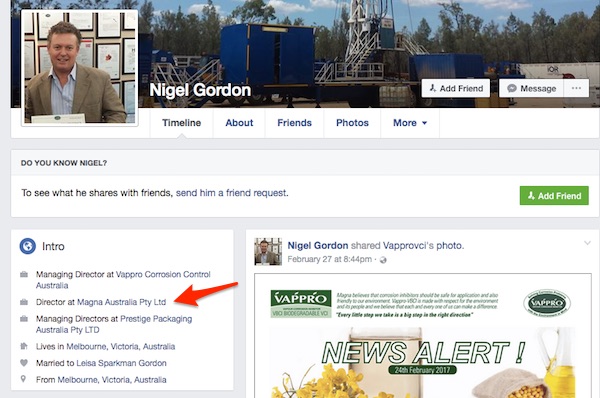 Woah! Pretty impressive credentials there. Managing Director of multiple companies, and Director at Magna Australia Pty Ltd. Must be somebody important, huh?
Now, wait a minute there… Magna Australia Pty Ltd? That company sounds awfully familiar. So I dug a little further, and found this: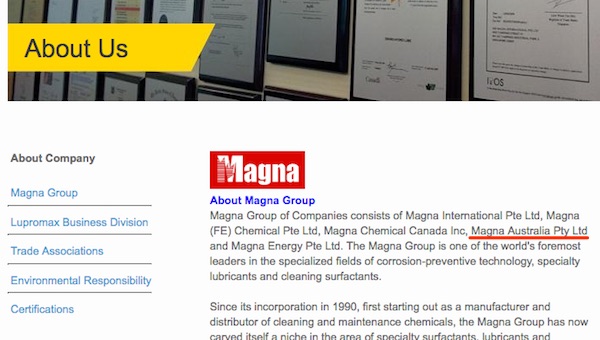 Hey! They're part of the Magna Group – which include Magna International Ptd Ltd, a Singapore-registered company and parent company of the Lupromax brand. In fact, I've previously used their oil – the Lupromax Razer 4T on my Pulsar 200NS and commented briefly on it.
So now, why would a Director of an oil company contact me about my blog post that is meant to EDUCATE consumers? What's going on? Was there something that they didn't want consumers to know? A little bit of Google research threw up this: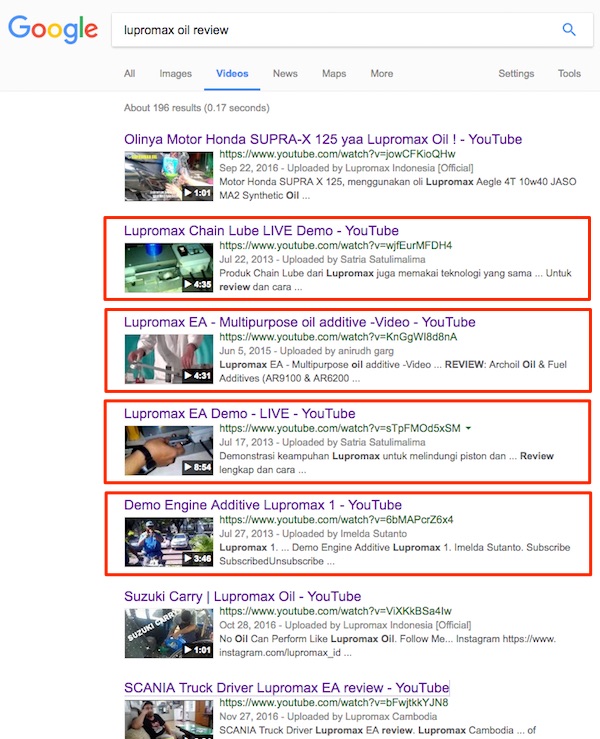 Google search term: "Lupromax oil review", and looked for videos. Go on, try it yourself! And… of the top FIVE video results on "Lupromax oil review", FOUR of them (80%) were tests done on a timken machine!
Holy Smokes! It was a EUREKA moment for me! This finally made sense! I think I now realise WHY this Nigel Gordon was trying to prevent me from educating the public. Turns out, the information that I shared on how inconsistent the timken bearing test is conflicts with many of the "demo's" done using Lupromax oil! Information that will likely hurt sales and product perception!
As many of you will know, I enjoy a healthy debate. I welcome feedback and comments and love to engage in meaningful conversations with my followers on facebook and on this blog site. And so I was waiting for a reply from this Nigel Gordon guy.
And yes, I did eventually get one – almost 2hrs later:

Seriously Nigel Gordon? Legal intimidation?
Take a look at the time stamps. I attempted to reply him some 10mins after he shot me the last messages. (Hey! It took me 3 mins to construct that on my iPhone, okay?) And then I realised that the message couldn't be sent over! What's going on?? Got an error message from facebook Messenger instead: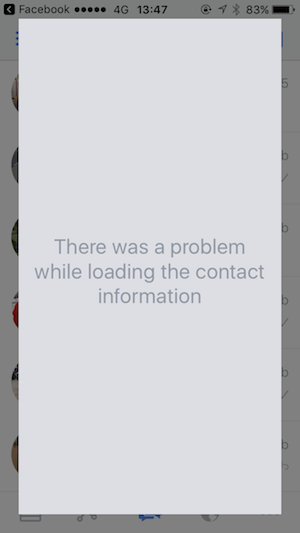 Huh? Where did Nigel Gordon go? A quick check on my desktop's facebook page showed the same: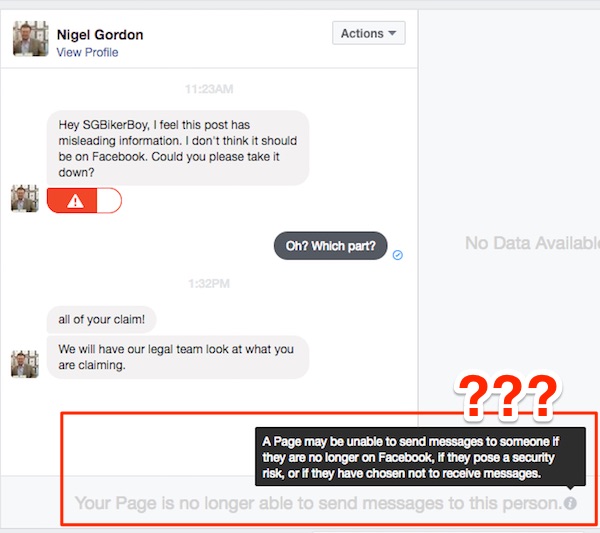 According to facebook, Nigel Gordon is either no longer on Facebook, poses a security risk, or have chosen not to receive messages from me. Hmmm… I wonder which?
I then fired up the Dictionary app on my iPhone: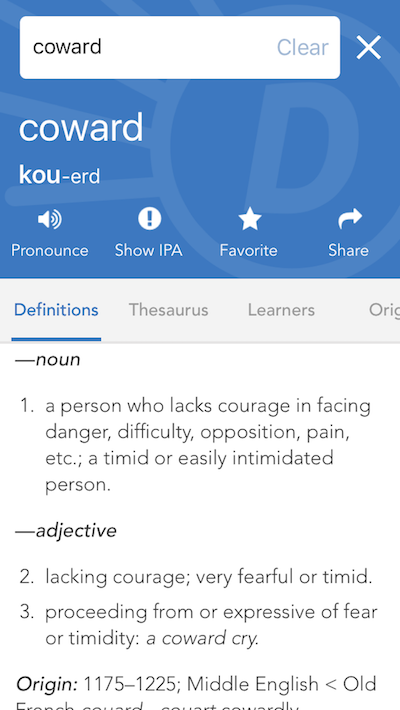 ---
I do not usually mix the opinions of an individual with that of a company that he represents. Salespeople and employees can sometimes say the darn-est things in the heat of the moment. But Nigel Gordon is no ordinary employee. He is the Director of Magna Australia Pty Ltd. In fact, he speaks about Lupromax on behalf of CEO of Magna Group. I think it would be safe to say that he speaks FOR the company and REPRESENTS the company – probably IS the company.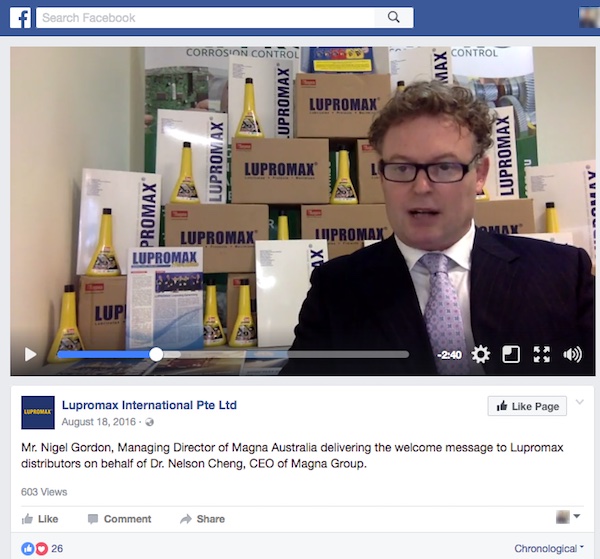 I did NOT write the previous blog post on the timken bearing test to shed bad light on you. For that matter, I didn't even know that Lupromax has been using the timken machine for demos until now. The post was purely for educating and informing the public.
And so, for the allegation that "all of your (my) claim" was "misleading" without providing specifics or details, threatening with a legal intimidation and then subsequently go missing in the middle of our conversation exchange, I say this to you…