If you've been following my blog, my previous Lazer Corsica Z-Line modular convertible helmet had some quality issues. And so I contacted Lazer and asked if the helmet was repairable. After some email exchanges, the friendly customer support guy at Lazer Helmet informed me that the helmet is likely not repairable and since the Corsica Z-Line is now discontinued, he offered me the newly released 2017 Lazer JH-3 Long Jet helmet as a replacement instead.
This is my 2nd open-face helmet – the first being a cheap $30 MHR helmet I purchased at the driving centre when I first started learning how to ride. Being a safety freak that I am, I have always preferred the protection of a chinbar – either from a modular, or a full-face helmet. But in this part of the world where it's perpetually summer, I do notice that the majority of motorcycle riders use open-face helmet for the extra ventilation it offers over their full-face cousins.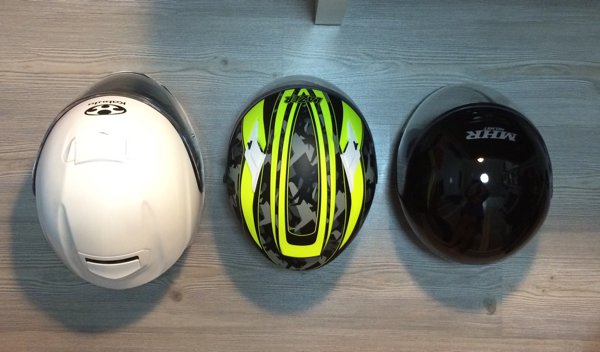 Being used to carrying a modular helmet, the JH3 is compact. Of course, carrying the Lazer JH-3 in my top box instead of the Ibuki gave me a lot more usable storage space in the box for other stuff.
COLOURS AND DESIGN
When I first stepped into Racing World to pick up the Lazer JH3 long jet helmet, the first thing that struck me was the available colours and graphic designs – they ALL looked absolutely gorgeous! I know, I know, looks and helmet graphics can be very subjective. I'm the sort of guy who would typically pick a plain-colored helmet over a graphic version, but when I saw the Fastback version, I knew it's gotta be this one!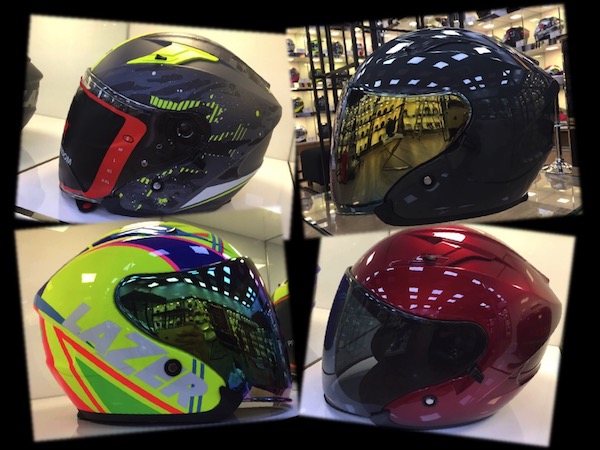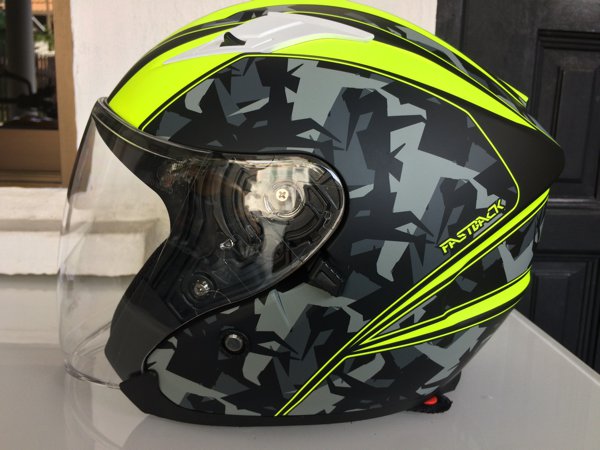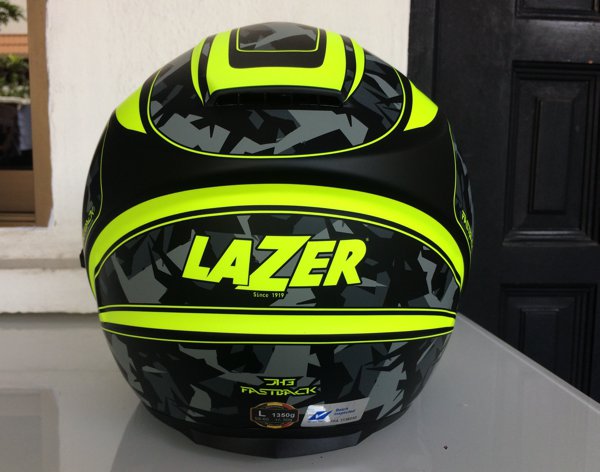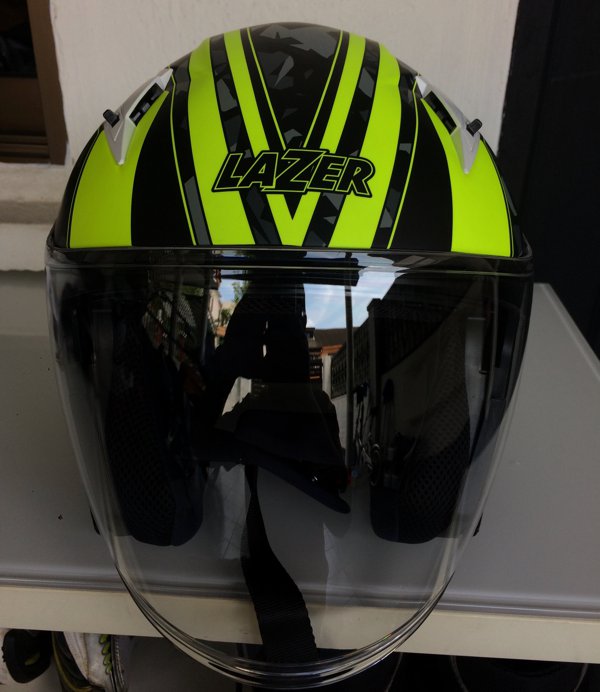 BUILD QUALITY AND CONSTRUCTION
I love the matt graphic finish of the Lazer JH3 Fastback. Clearly, Lazer's graphics design team has put in a lot of effort in designing the helmet. The overall construction of the helmet is very good. However, some very minor rough finishes (yes, I may be nitpicking here) regrettably lowered the perceived quality of the helmet.
Take for example, there was a very minor "paintwork bump" at a corner of the helmet – very much like what happens when you have a slight over-spray of paint, allowing it to run then dry into a blob. I must mention that this is almost invisible, but it's one of those things that "when you know it's there, you know it's there".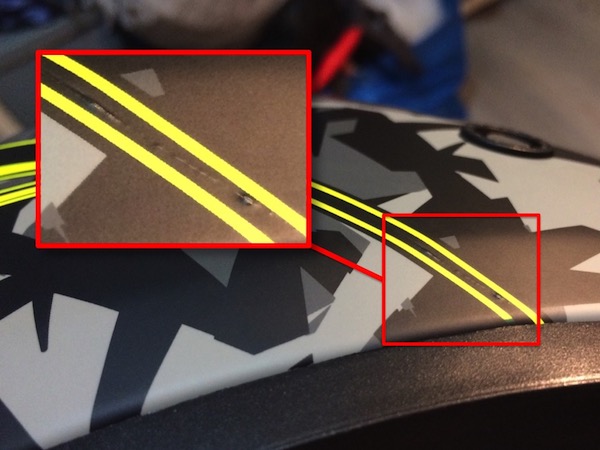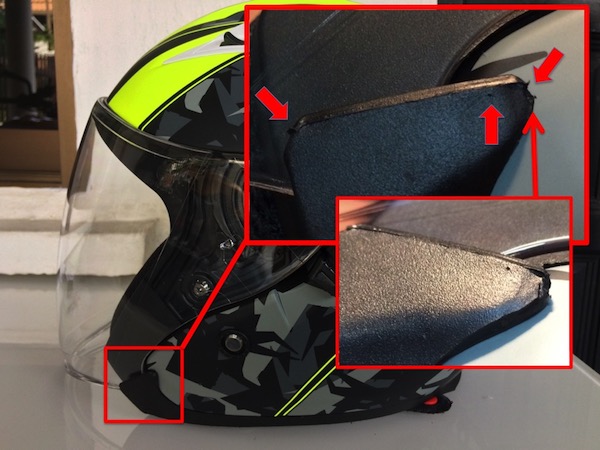 But let's not forget that the JH3 is a mid-priced helmet targeted at the mid-priced budget. And at this price range, all these minor rough finishes are very much acceptable, and probably invisible to most  – especially when you're distracted by it's gorgeous graphic design!
I noticed that Lazer has now replaced the faux leather used on the helmet liner with a slightly different material. My previous Corsica had issues with this liner and it started peeling within the first year of use. I cannot comment on how long this "improved" version would last and only time will tell. But I'm pleased that Lazer has taken note of the previous quality issue and actually did something about it! Well done!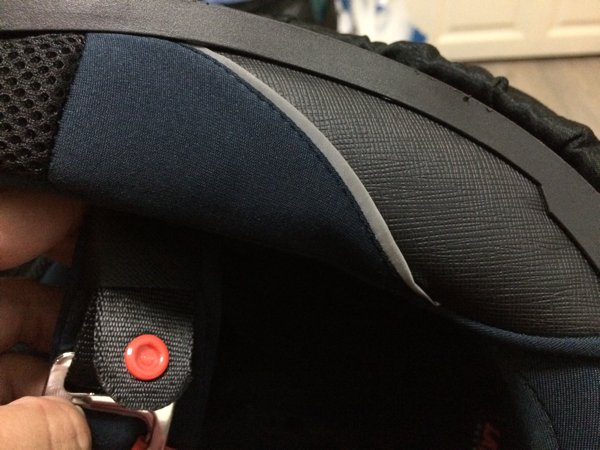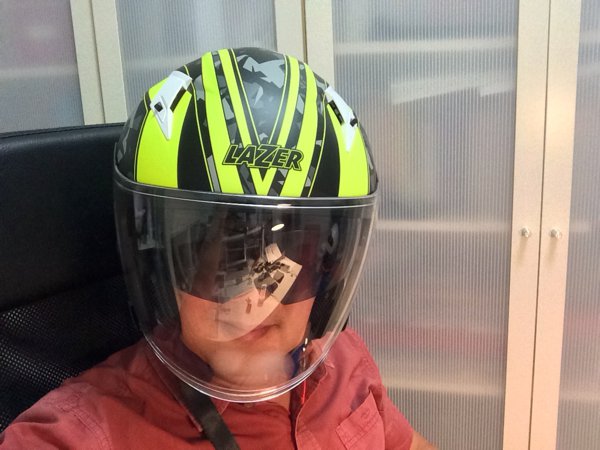 The drop down internal sun visor works very well. The actuating lever is on the left side of the helmet and is large enough to be operated even with a gloved hand. The spring loaded mechanism almost forces it to be either in the full-up or full-down position. It's does not stay too well in any intermediate positions in between. This is perfectly fine, as I always use it either fully up or fully down anyway, and I cannot think of any reason why anyone would want it to be anywhere in between. (No, I don't buy the low hanging sun over the horizon scenario.)
It's interesting that Lazer has designed the visor to be operable in only 3 positions – fully opened, midway, and fully closed. Frankly, the midway position is practically useless and I use it either in the fully opened or fully closed positions.
FIT, VENTILATION AND COMFORT
My head circumference measures 59cm and went with the Large size as suggested by Lazer's sizing chart. The fit was snug and felt correctly tight for a brand new helmet.

The inner liner is made of some sort of moisture wicking material. It looks very much the same as my previous Lazer Corsica Z-Line helmet, and feels nice and comfy – great for longer rides. I did notice that the cushioning seems a tad bit more plush on the new JH3 than my older Corsica, but not as plush as my (more expensive) Kabuto Ibuki.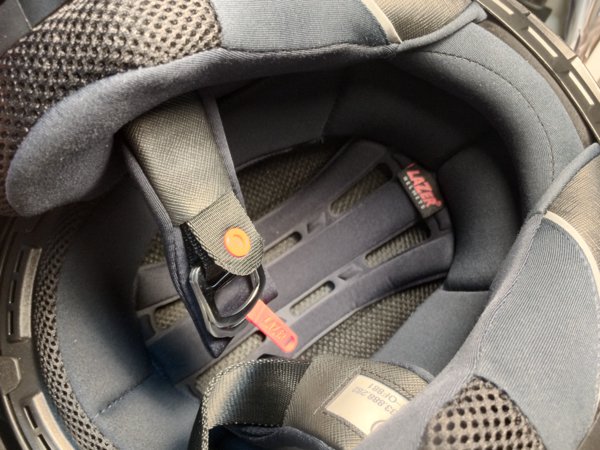 Unfortunately, while my head and face were pampered by the plush, comfy liner, my ears weren't doing too well. While I didn't notice this too much on shorter rides, but after one of my longer rides into Johor Bahru, Malaysia, I felt sore around the tip of my ears.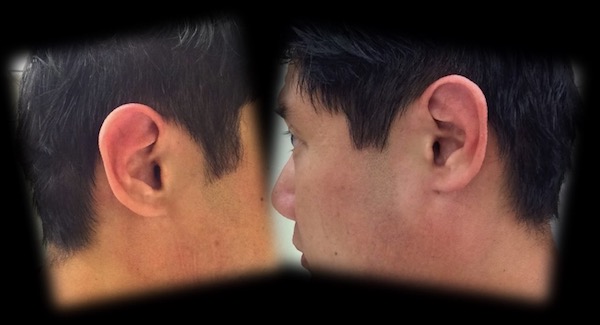 I inspected the helmet when I got home to see if I could do anything to make the ears more comfortable. That's when I noticed that the ear cup recess on the JH3 appears to be rather shallow. In fact, much shallower than my previous Lazer Corsica Z-Line. So much, that I think there's not enough space to insert any bluetooth speakers. So what's pressing on my ear tips are not compressed liner material, but actually the plastic of the inside of the helmet. Not much I could do about that apart from allowing the helmet to stretch out abit more.
So, if you have slightly pointy or elephant ears like me, then it's best you try on the helmet for fit before purchasing it.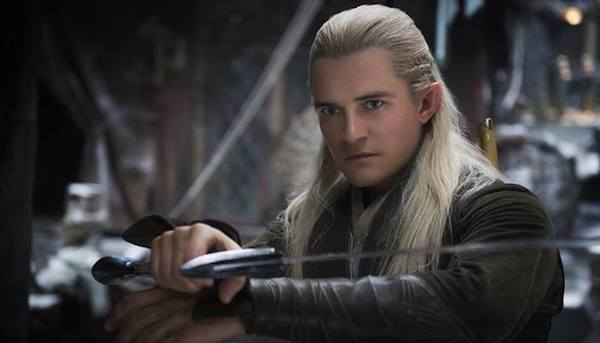 But there might be an advantage of the shallow ear recess of the helmet after all – wind noise control. One of the first thing that struck me when I first took the helmet for a ride was how QUIET the helmet was – especially for an open-face! With the visor down, it was almost as quiet as my Kabuto Ibuki sans chin curtain! It was really rather unbelievable!
So here's the dilemma – deeper ear recesses for greater comfort but a noisier helmet, or a shallow ear recess for a quieter ride at the expense of comfort? I think here's what helmet manufacturers should do – make a deep ear recess shell, and pad it with MEMORY FOAM. With the helmet on, the memory foam moulds (to a certain extent) to the shape of the ear, thus reducing the passages that air can flow, and thereby reducing noise. Hint, hint, Lazer?
Although noise levels were noticeable low, ventilation on the Lazer JH3 was good. There are 2 intake vents at the top of the helmet and a large exhaust. The intake vents are controlled individually by their respective  toggle switches, which, while small, are still operable by gloved hands. There is no open / close control of the exhaust vent.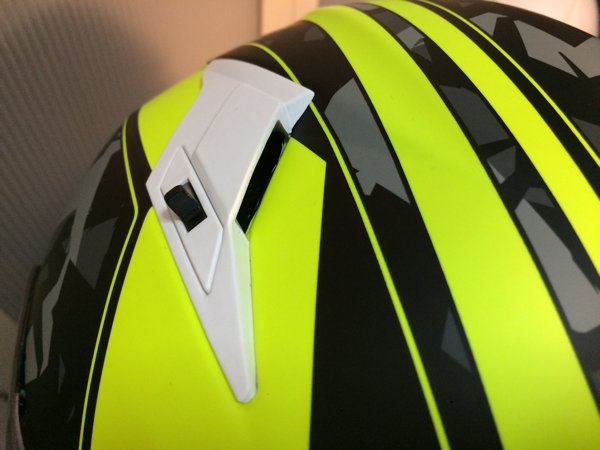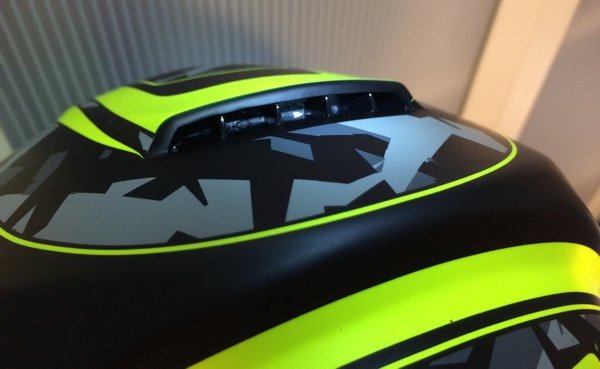 Speaking of vents, the two intake vents appears to be a plastic module snapped into the technopolymer helmet outer shell. While the left vent appears to be solidly installed, the right one had a very slight rattle when I knocked on it or on the helmet shell. Certainly not distracting nor concerning, but like I mentioned, this is a mid-price helmet and I just happened to notice some of the non-essential corners that Lazer had decided to cut.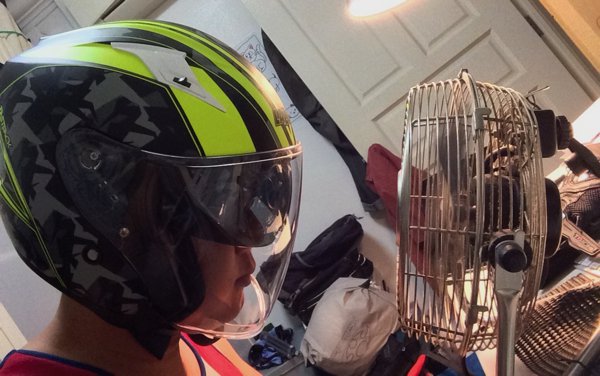 I tested the ventilation mechanism in a *ahem* "controlled and static environment" and also in the real world riding on my Pulsar 200NS, and am happy to mention that I could actually feel some air moving through the top of my head with the vents opened. Good job on the vent design, Lazer!
In real world riding conditions though, with the motorcycle stationary and the visor fully closed, it feels a tad bit warm inside the helmet. Which brings about an interesting feature…
OTHER FEATURES OF THE JH3
The Lazer JH-3 was designed as a "long jet" helmet. Although it's an open-face helmet, the visor, when in the fully closed position, seem to come down slightly lower and slightly closer to the chin than most other common open-face motorcycle helmets. Not only that, the visor has a "lock" position where it snaps into the bottom of the helmet, thus securing it from accidental opening.
Now, I'm sure this "lock" isn't strong enough to prevent a direct upward force on the visor from opening it, but the "locking mechanism" seem to help in event of a sideway force (typically means face sliding on tarmac) from snapping open the visor. Well, at least in theory – and I don't have the data to back this, nor the resource (nor guts) to test this. But nevertheless, it does feel rather secure and gives one the feeling of a "rather protective helmet". I have spoken to a few other JH3 users and they have all reported to "feel more secure" with it.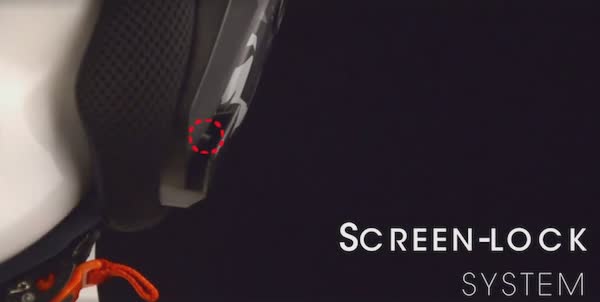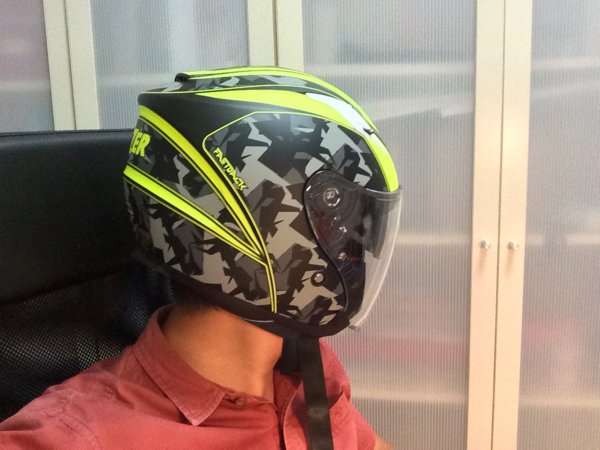 At 1350g for a Large shell, the Lazer JH3 is about average weight for a quality open-face helmet. It's constructed with that Lazer calls "technopolymer" – a fancy term for thermoplastic construction. According to Lazer's website literature, their "thermoplastic LAZER helmets are made by a  process of injecting selected high-grade material that ensures very high protection qualities. In association with the largest multinationals in the chemistry and  the thermoplastic industries, LAZER uses engineered techno-polymers of high impact resistance."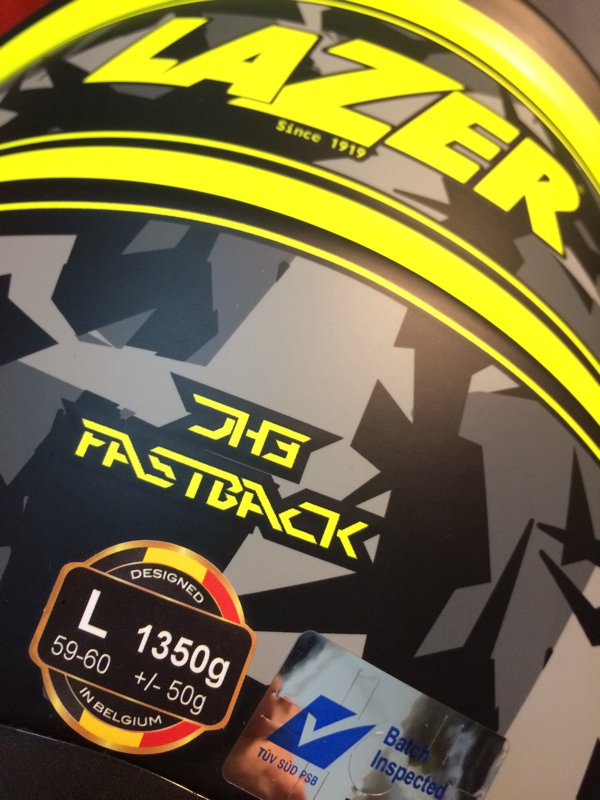 Again, this is a mid-priced helmet targeted at the mid-priced market. And mid-priced market helmets are typically constructed with thermoplastic as compared to the more expensive laminated fiber construction. While the fiber-based helmets may offer slightly better protection and shock resistance, the JH3 is PSB-tested and approved for use in Singapore – so that's good enough for most.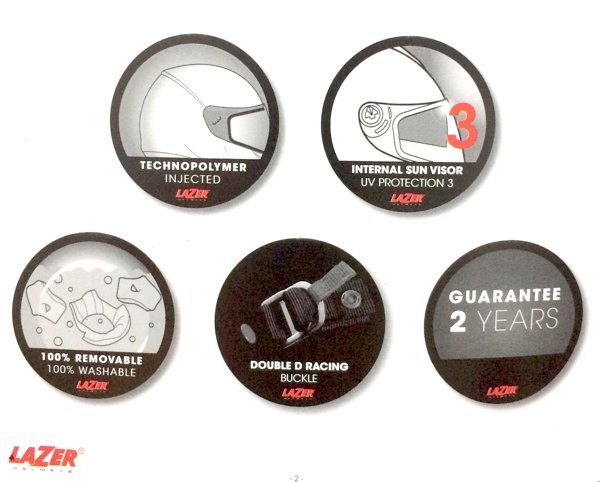 CONCLUSION
Overall, if you're looking for an open-face motorcycle helmet and if it fits your budget, the Lazer JH3 long jet helmet provides really good value – especially the graphics version (if that rocks your boat). Visual design wise, it's amongst the nicest looking open-face helmets. I love, love, love the Fastback graphics, and think the Dakstar is not bad too. If you're into plain helmets, I think the Wine Red is pretty sexy.
With the plush moisture-wicking inner liner, it's quite a comfortable helmet that fits securely – unless like me, you have ears somewhat resembling Jumbo. So if you can, try the helmet before you buy. The hi-vis neon green/yellow detail help to keep the rider visible to other road users – which is a good thing – without being overly gaudy. And importantly for Singapore-based riders, it's PSB-approved too!