The Bajaj Pulsar 200NS was introduced in 2012 with much fanfare then. It was the first 200cc triple-sparked single-cylinder engine that the Indian company ever produced – a technology revolution at that time. As with every new engine, service intervals called out in the owners manual tend to be on the conservative side for some checks. Take the valve / tappet clearance for example – it was recommended to check and adjust if necessary at every 5,000km!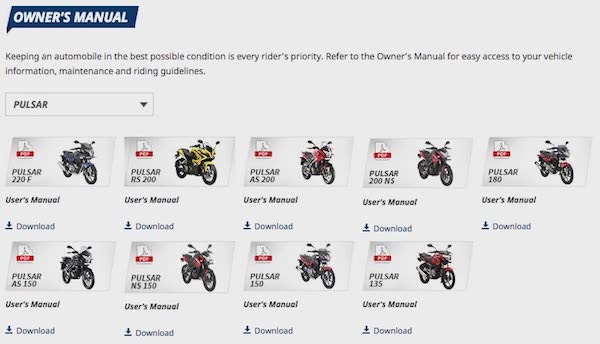 Since 2012, Bajaj has sold a healthy number of 200NS and thus their engineering team also has a better idea of the performance and tolerances of the parts. In the latest version of the 200NS owner's manual (combined as a 200NS and 200AS owner's manual), some notable difference from the original Rev 1 (May 12) version of the 200NS manual as follows:
Engine oil change interval is now every 5,000km regardless of engine oil, instead of every 10,000km if using Bajaj DTSi oil previously.
Tappet clearance check and adjustment is now more reasonable at 15,000km interval instead of every 5,000km.
20W50 API 'SJ' engine oil now seem to be acceptable* (previously 20W50 API 'SL' or JASO MA).
Spark plugs replacement interval extended to 30,000km (from 20,000km).
Fork oil and oil seal replacement intervals have been removed.
An updated copy of the owner's manual can be found on their website here:
http://www.globalbajaj.com/global/english/riders/how-to/owners-manual/
*Note that page 26 of the 200NS/AS manual still recommends SAE 20W50 API 'SL' or JASO 'MA' oil, but page 33 of the same manual mentioned SAE 20W50 API 'SJ' Grade in bold. I've written to Bajaj to seek clarification on this and will update here when new information comes in.
---
*Images source: bajajglobal.com