23 July 2016, Saturday. With nothing much to do in Stung Treng, I woke up early today and set off for Phnom Penh. The journey from Stung Treng to the capital city is a mix of fantastic, okay, and really horrible roads. There were stretches of fantastic paved, smooth roads which rivals the Malaysian North-South Highway. But it sometimes turn into really bad, almost dirt-road quality stretches without warning. So that 6hr-odd, 400+km journey,  see me doing triple-digit speeds and sometimes as slow at 30-40kmh at the potholes-filled, uneven, loose-gravelled dirt tracks (which I even hesitate to call it a "road".)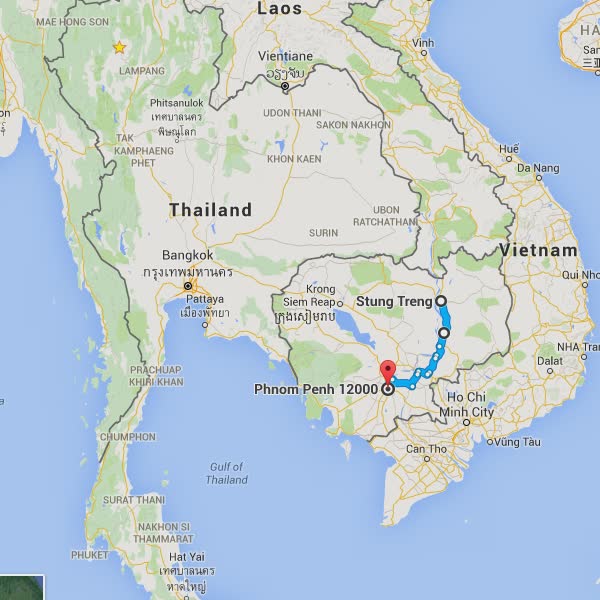 From my online research, I knew that Phnom Penh has a Bajaj dealership. So I was really looking forward to drop by to get my chain and sprocket set replaced. It's about 37,000km on my odometer, and as I'm the 2nd owner without the previous owner's maintenance records, I honestly do not know if this was the original chain that came with the bike new, or if it's ever been replaced. But of late, I've been needing more frequent chain tension adjustments and did notice that the chain was beginning to wear unevenly.
Riding in Phnom Penh was a very different experience – and something that reminded me why I tend to avoid the capital cities in these developing nations. There are only 2 rules here – do not hit anyone and do not let anyone hit you. Everything else, are just guidelines – including traffic lights. Green light means go, but look out for anything that might come from your left, your right, or even directly in front of you. Red light merely means recommended to stop, but if you see a path in front of you, just move along. Motorcycles outnumber any other types of vehicles here, and not a minute goes by without hearing the sound of a horn of a vehicle. But unlike in Singapore – where the horn has somewhat evolved into a "scolding mechanism", the horn sounds here stay true to their intended nature of a "warning mechanism" – warning others of your presence on the road. It's simply road madness here!
And just when I arrived in Phnom Penh, while searching for a place to stay, I spotted the Bajaj dealership! As it's a Sunday the next day, I was afraid that they might not be opened – so, with all my luggage in tow, I turned in immediately.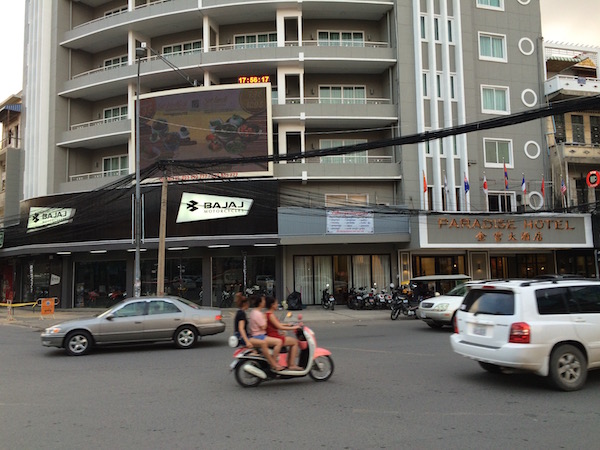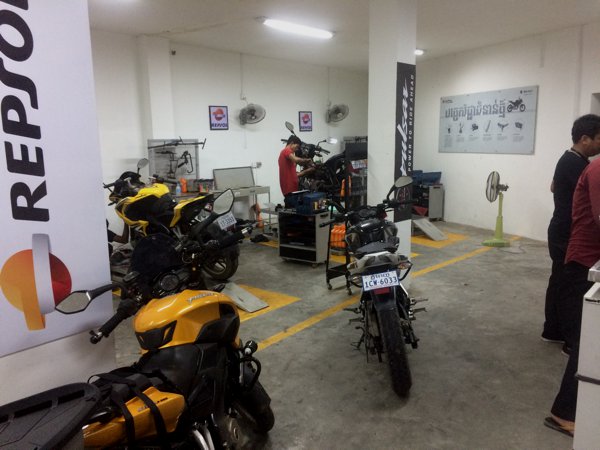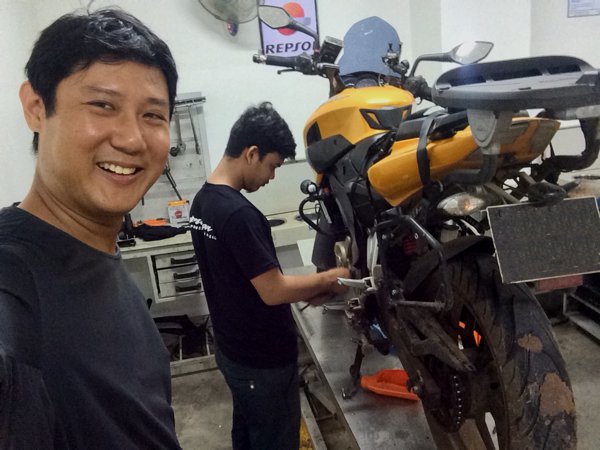 Since I was here, I had the following done:
Chain and sprocket set replacement. USD45
Rear brake pads. USD7.50
RH Engine guard. USD4.00
Front indicator assemblies – LH & RH. USD6.00 ea.
The chain, sprockets and rear brake pads were necessary. The rear pads were almost gone due to the brake binding issue. The rest were merely cosmetic replacements due to the drop in Luang Prabang – since it's generally cheaper to replace them here than back in Singapore.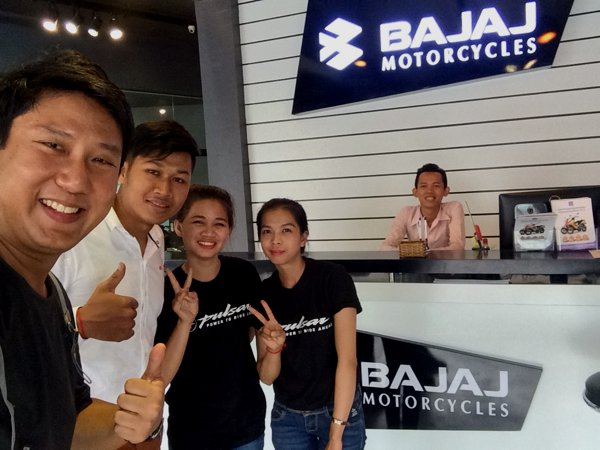 And while the bike was being serviced, I got myself a room in the hotel just above the Bajaj dealership, and started moving some of my stuff to the hotel room.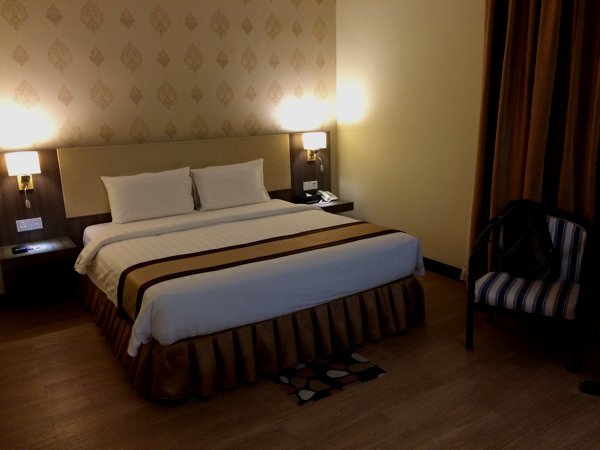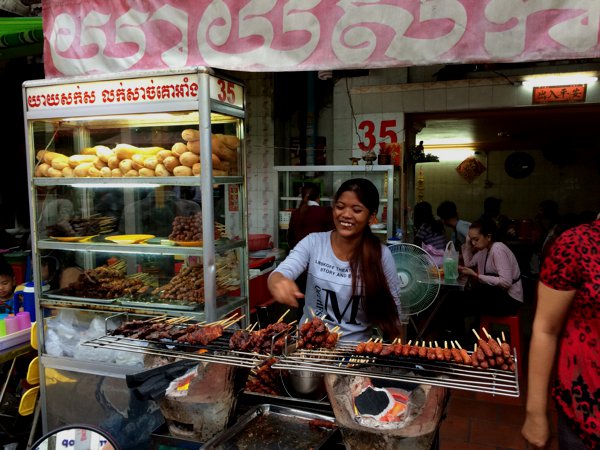 24 July 2016, Sunday. As I lived at the hotel just above the Bajaj dealership, the Bajaj staff left a message at the hotel concierge to invite me over to the Bajaj showroom the next morning as they wanted to give me a gift.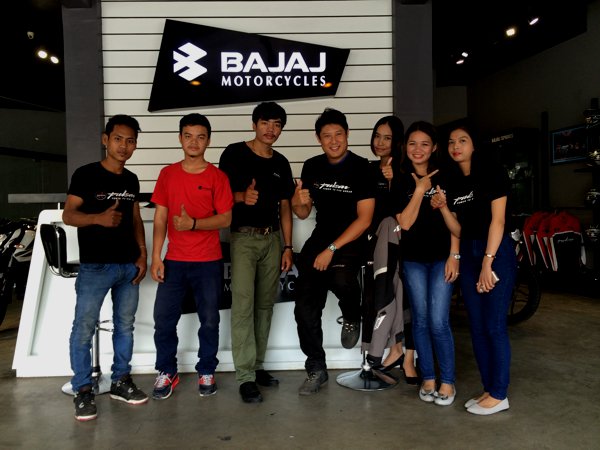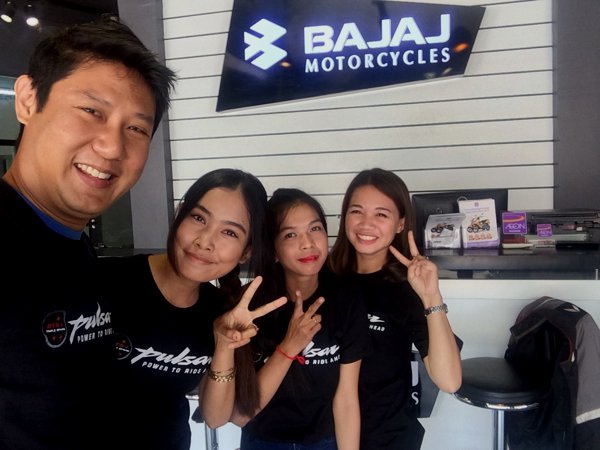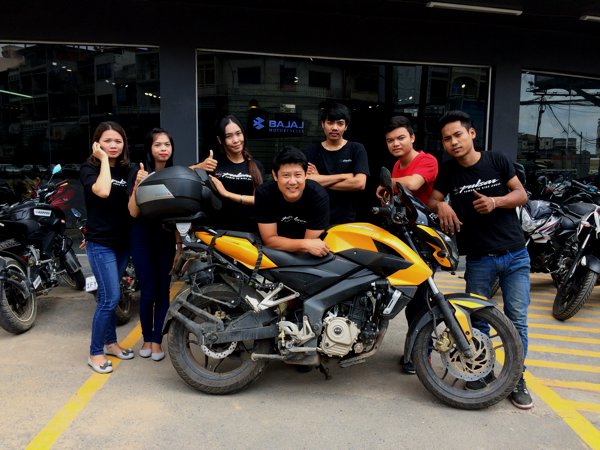 After the royal treatment at the Bajaj dealership, I headed to the Choeung Ek Genocidal Centre to learn about the history of the Khmer Rouge regime and the atrocities they did on their own people. The site (one of the many mass killing fields) wasn't too large, and honestly have not much to see too. But the complimentary audio guide was amazing – which takes the visitor through the mass burial site and the stories behind it. I was transported back in time for about an hour or so.