Ah! Today, the big fat red girl meets her smaller, slimmer, but equally pretty white sibling. And so, the GS siblings meet for the first time.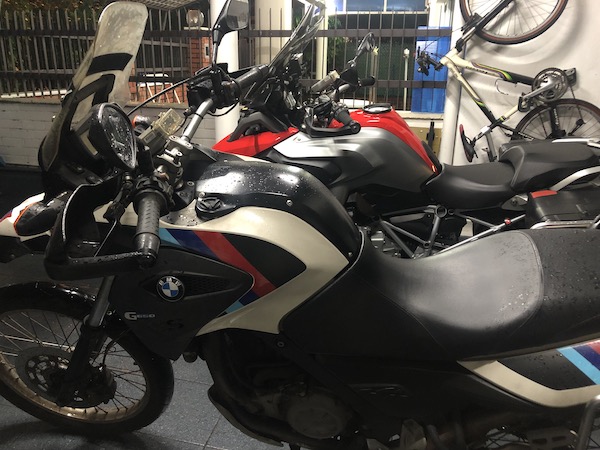 She's beautiful, graceful, and just does everything so well. And many a times when admiring her gorgeous looks while sipping a cup of coffee from a near distance away, I've caught her posing for fans who instinctively whipped out their iPhones to capture a selfie while standing beside her. She's not only a looker, but the R1200GS LC is an excellent all-rounder and is superbly comfortable on long distance mile munching tours.
But she and I share a common challenge – we're both too fat and heavy for some of the stuff that we'd pretty much love to enjoy. On some of the recent off-tarmac rides I've taken her with me on, I kept wishing for a smaller, slimmer, and most definitely lighter bike.
And so, I welcomed the BMW G650GS Sertao to the family today!
At a mere 176kg dry and 191kg wet, the BMW G650GS Sertao is a capable and (relatively) lightweight off-road-ready machine. Armed with a 652cc single cylinder engine, the 50hp and 60Nm torque steed is not gonna break any speed records – especially when coupled to its 5-speed gearbox. But its skinny 90/90-21 front and 130/80-17 rear tires makes it absolute at home in the dirt and in the trails. And if (or rather, when) it decides to take a nap on the ground, picking her up should be quite a bit easier than her bigger R1200GS sibling.
Who should I take out for my next ride – the G650GS or the R1200GS? That's a dilemma I'd have to deal with – because while they each serve a different need, but they are both such a pleasure to ride!