At 12,000km, the chain on my Pulsar 200NS had developed an uneven wear across the length of the chain. This set of original Bajaj sprocket and chain was replaced for US$45 in Phnom Penh's Bajaj dealership when I was touring Cambodia.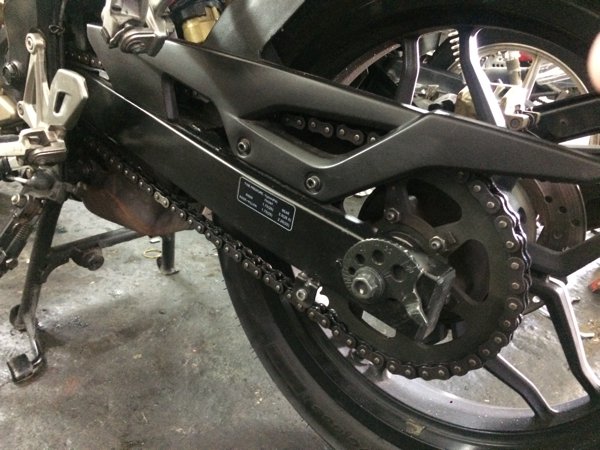 Apart from regularly cleaning and lubing the chain, I did not have to adjust the chain slack for the first 9,000km or so. And then I did something really stupid – I hosed the chain with a high pressure washer!
A very, very bad decision! Shortly after, the chain started loosening up and I had to do my first chain tension adjustment at around 9,500km. Even then, I started noting a slight uneven wear along the length of the chain. Then, about 1,000km later, I had to adjust the slack again. And this time, the uneven wear was more pronounced. The next adjustment? A mere 800km later.
With the chain necessitating such frequent re-adjustments, I knew it was approaching its end of life and it was time for a new chain. I know, I know, best practices calls for the sprockets and chain be replaced as a set. But at 12,000km, the sprockets on the 200NS were still relatively new and visual inspection reveal them to be in a very good condition. "Conventional wisdom" also suggest that unless a chain is used till its very worn, or that you spot obvious sprocket wear, most people can get away with a set of sprockets for every 2 sets of chains. And so, I decided to save some money and re-used my existing sprockets.
While researching motorcycle chains, a particular brand was frequently mentioned and stood out – D.I.D from Japan. In particular, their patented X-ring chains.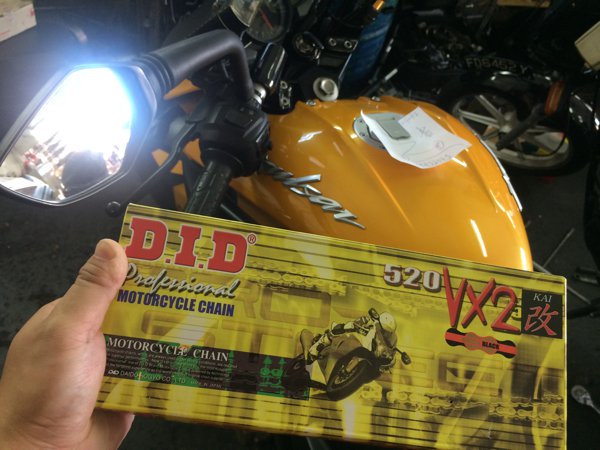 Reviews of the DID chain that I've come across online all seem to suggest that DID is amongst the creme-d-la-creme of motorcycle chains. The reasonably priced, patented x-ring construction traps the useful grease within the chain (for prolonged life) while keeping link rotation friction low as compared to ordinary o-ring chains – all these put together in a high quality metal package resulting in high stretch resistance, chain longevity and better mileage through low power loss.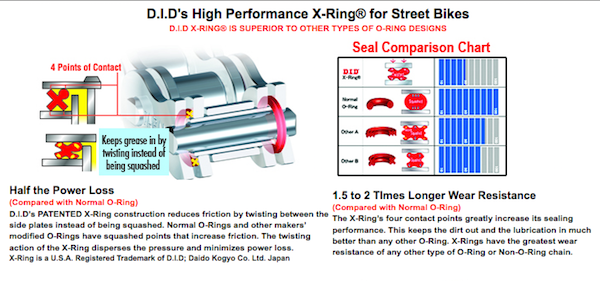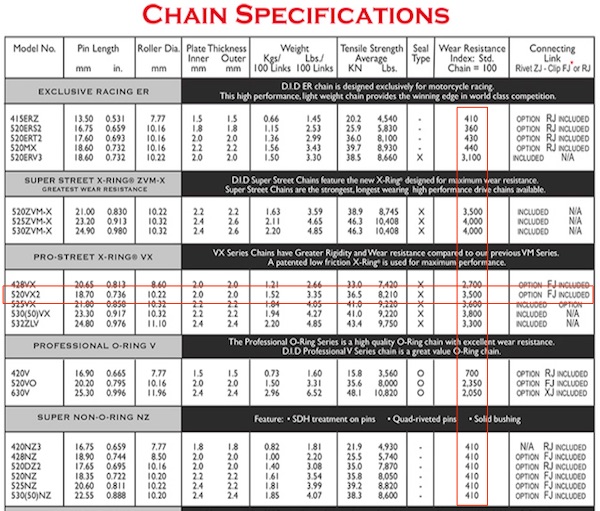 User reviews I've come across mostly seem to agree that the DID x-ring chains seem to last longer than standard o-ring chains. In fact, DID claims that their 520vx2 x-ring chain is up to 35 times the wear resistance as compared to standard non-o-ring chains! Okay! Exactly what I was looking for!
A quick check with a few places for availability, and I eventually picked up a set from Lim Ah Boy for $85 and another $10 for installation.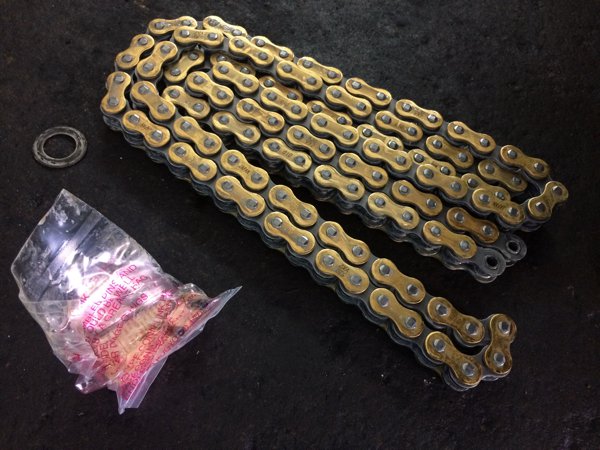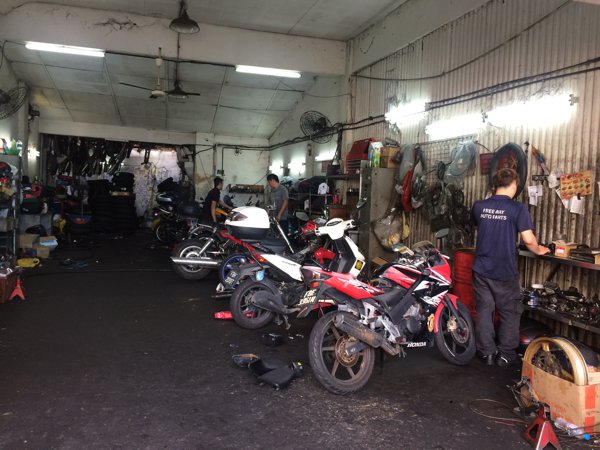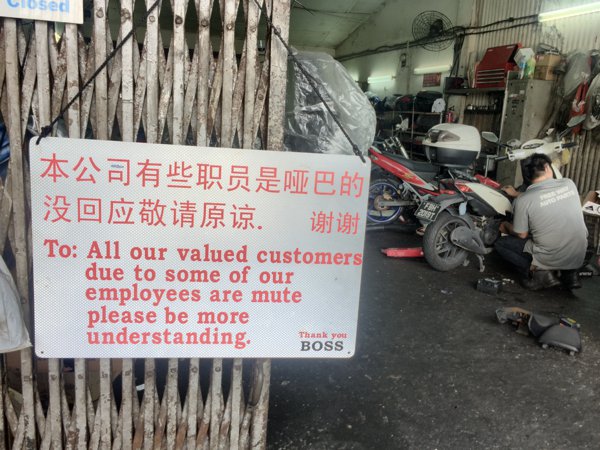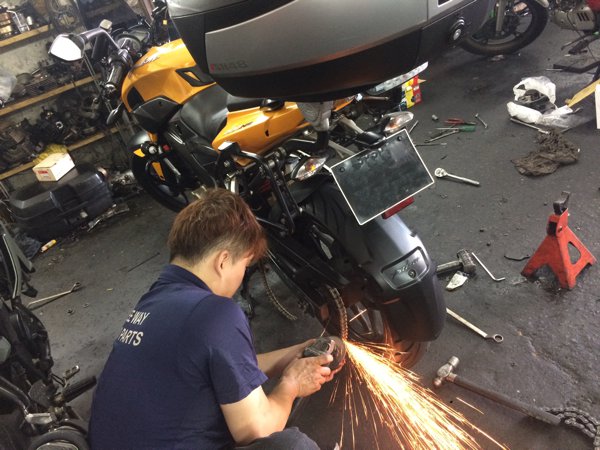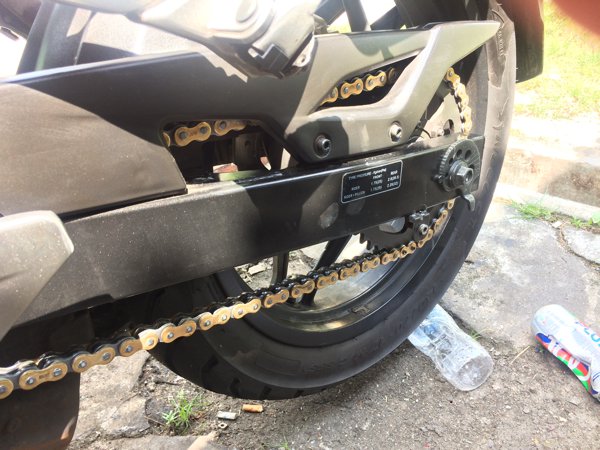 DID 520VX2 X-Ring chain installed onto my Pulsar! Some people seem to like the gold colour – adds bling to the bike. But personally, I couldn't care for it and would actually prefer it in standard black. But I got this for its performance and longevity at a reasonable price – not for its bling.
As I've not spent enough time with this new chain, I won't comment on its performance and longevity yet – I might write a review on this in the future. But my initial impressions on the ride home was…ABSOLUTELY AWESOME! A brand new chain definitely makes the ride smoother and makes the 200NS enjoyable to ride once again!