The room in Pai didn't come with breakfast. So I went searching for some food in the morning. Came across a roadside hawker center and tried ordering some "Chinese Roll Noodles Soup".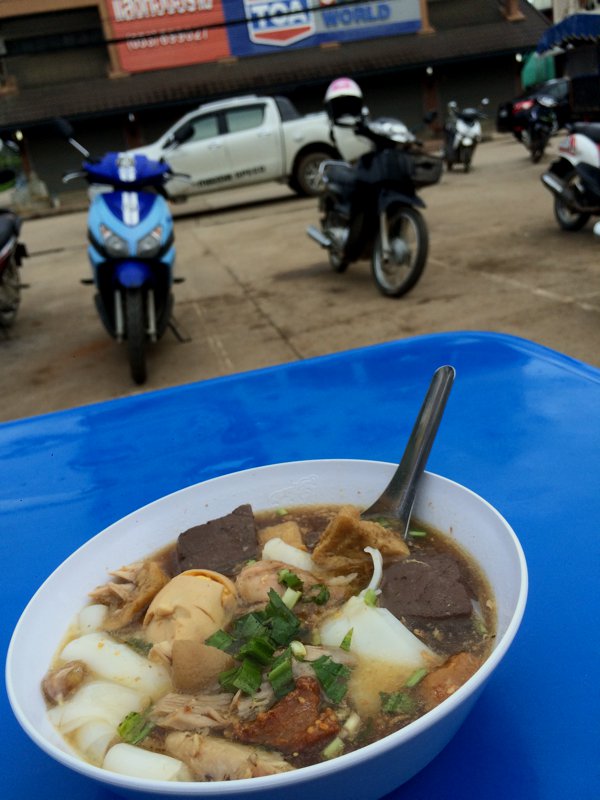 Since I arrived in Pai rather late last evening, and that it was raining the whole of last evening, I didn't quite get to see Pai. And after breakfast, I decided to stay for another night. And so, I quickly confirmed it with the accommodation reception (who happened to be a Chinese student from Beijing, here in Thailand working for food and accommodation with no pay), and paid for the next night.
I went exploring Pai. As I was riding aimlessly, and exploring the area, the bike started to feel strange. There was a sudden loss of power and the engine sounded like it was choking – not too indifferent from what I experienced a couple of days ago, but only worse this time.
And then it died. It just died.
The starter button worked the starter motor, and I could hear the engine crank. But it just wouldn't turn over and start. Air – fuel – spark. The 3 components necessary for the engine to work. My air filter should be good – I personally replaced it just a day before the trip and haven't really done any off-roading. I've got a full tank of fuel and the last person to remove the fuel tank was myself, and I was absolutely confident that I've put it back properly. Spark – the last spark plug replacement was barely 5,000km ago. But I was praying real hard that it was the plugs – I had spares (in the hotel room, though).
About 5km away from the town of Pai, I initially tried to, but later gave up pushing the bike back to town. My mind was racing as to what I should do.
Am I gonna be stranded? Stranded in Pai? Stranded in Thailand? Stranded some 3,000km away from home?
And so I flagged down a random car and sought help, and a male local who looked like he was in his early 30's stopped. After some gesturing, he understood that my bike is dead and I needed help to get back into town. So he signalled me to hop on board and ferried me back to Pai. Barely a minute into the journey, he turned up the volume of his car's stereo and started whipping his head around to the beat of the music. And then, he pulled out an opened can of beer and started drinking!
"WHAT IN THE WORLD HAVE I GOTTEN MYSELF INTO??!?!!"
Having my bike break down was bad enough. Being stranded is unnerving but still manageable. But now I'm stuck in a car of a drunk punk?!?
He offered me an unopened can, but I politely declined. In my head, I was praying real hard that I'll get to Pai alive. Please, please! Let me live. It's only 5km away! No, my GPS tells me that by now, I'm merely 3km away from town.
And so I tried to distract him from his drink and started a conversation. We spoke about the made-in-Thailand cars and how the Japanese have moved their factories to Thailand. He then showed me the 2WD / 4WD control knob on his SUV and (from what I could understand) how powerful the car was. And out of the blue, he suddenly swerved intentionally into the path of a car coming from the opposite direction and then back again into his side of the road and seem to be telling me how great the steering stability is on this car.
WTF?!?
Thankfully, before long, we made it into town – and in one piece. Phew!
And then my troubles began.
The owner of the first bike shop that I walked into was a grumpy old man who knew very limited english. I pleaded with him to come with me to take a look at the bike (or at least to help get the bike over), but he adamantly refused. The drunk punk was still with me and told the bike shop owner that I travelled from Singapore and am now stranded with a dead bike. Nope. He refused to budge nor help, and kept saying something along the lines of "you bring bike here, I see."
Frustrated, the drunk punk gestured to me to walk away, and we went to the next bike repair shop just behind the first shop. And after the drunk punk (whom I'm now beginning to like) explained the situation to the bike shop owner, the owner started speaking to me in Mandarin (Chinese). A Chinese Thai!! OMG! Thank you! I can now understand and be understood!
And so the drunk punk realised that both the shop owner and myself could converse in Mandarin, he made his leave. I thanked him profusely and was grateful for his assistance so far (except for the drink driving and car swerving part.) After explaining my situation to the bike shop owner, he told me that he doesn't work on "big bikes" and he only deals with small bikes – the 100cc or so scooters. And so, he directed me to seek help from the *other* bike shop behind his.
"But…but… but I just came from there, and he wasn't willing to help…"
Sensing my helplessness, he told me that the most he could do is to get someone to ferry the bike back to town. He doesn't work on "big bikes". Of course, I was grateful for that offer.
In Singapore, a 200cc single cylinder machine would be considered "small". Here, it's a "big bike". It's all relativity, I suppose.
And so, after about 5mins or so, a songthaew turned up. "This to ferry the bike?" I thought to myself. "I suppose I'll take whatever works!"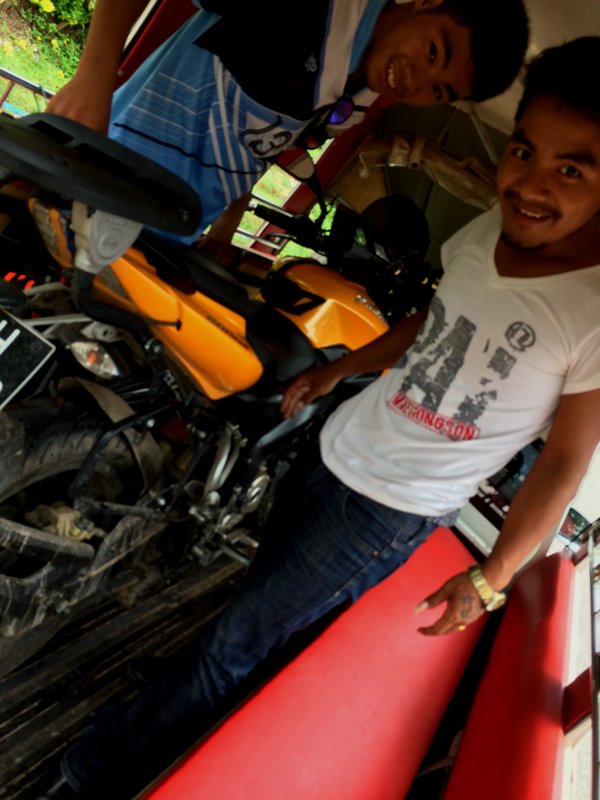 And now that the bike is back in town, the 2nd shop owner reiterated that he doesn't work on "big bikes", and referred me to the 1st shop. Reluctantly, I pushed my bike to the 1st shop for the grumpy owner to take a look.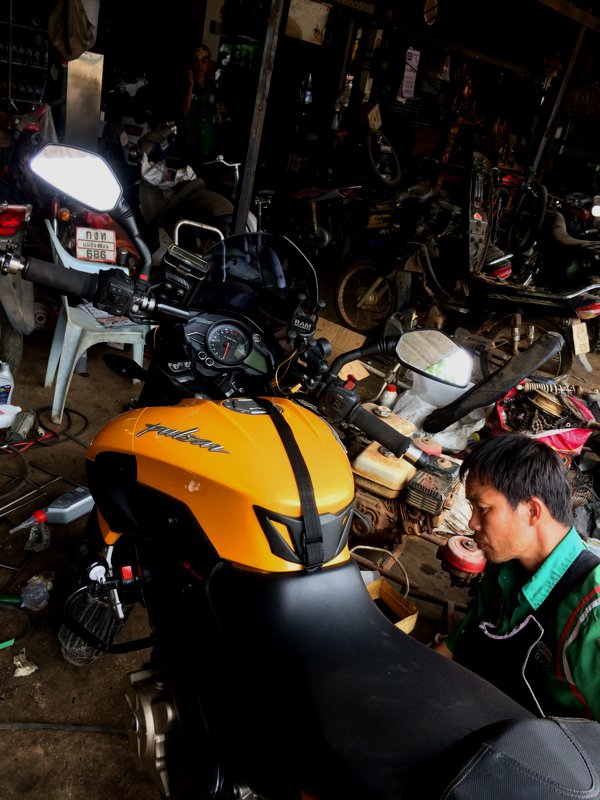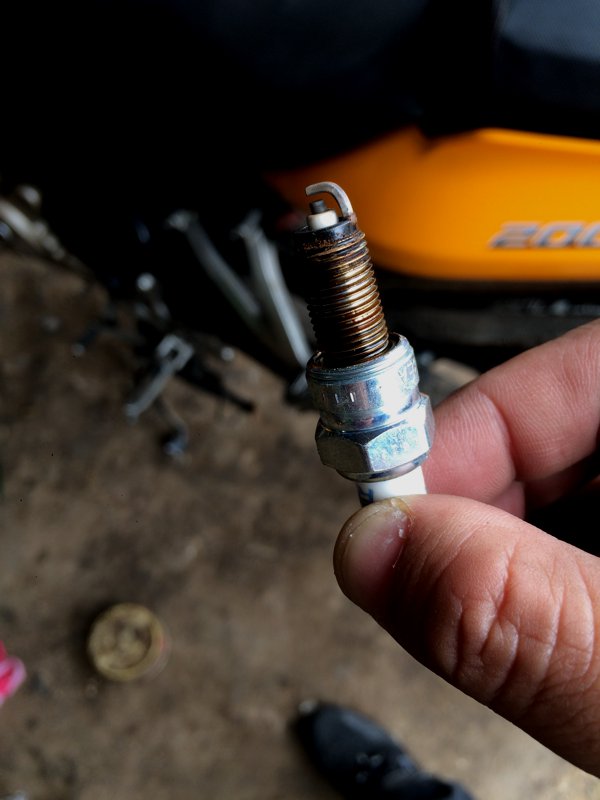 After a quick look, in his limited English and with a heavy dose of Thai, he seem to be telling me that he cannot work on the bike and its likely a piston or valve timing issue. He told me that he has "a lot of other bikes to work on" and suggested that I went to the 2nd shop.
Oh great! Now the 2 shops are pushing me to each other.
So I went back to the 2nd shop – at least the owner could speak a language we mutually understood. He took a quick look, reiterated that he doesn't work on "big bikes" and kinda said something about engine / piston failure. Oh great! 2 independent mechanics suggesting engine failure. He suggested that I brought it to Chiang Mai to get it repaired – if I knew where the dealer or agent was. Chiang Mai is some 3'ish hours away from Pai and is the nearest city. So if there's any chance of getting my bike running again, it's got to be Chiang Mai.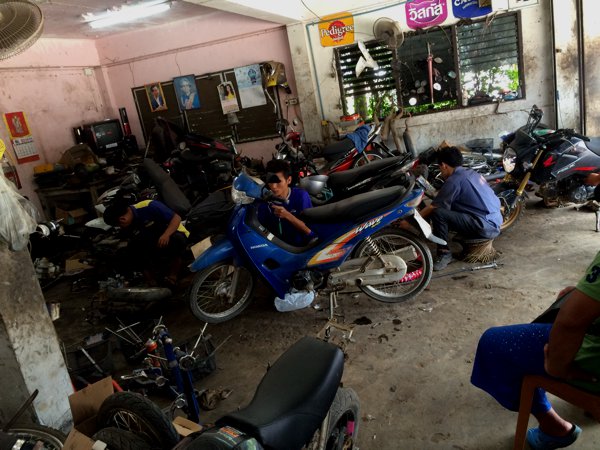 Thailand doesn't have a Bajaj dealership. Not even parallel imports. Oh dear.
Then the 2nd shop owner suggested I leave the bike there, go for lunch, find out where the dealership in Chiang Mai was, and the best that he could offer was to help me arrange for the bike to be transported to Chiang Mai. But transporting the bike there is gonna cost me between 2,500 to 3,000 THB.
So over lunch, I recalled someone on GT-Rider recommending a shop in Chiang Mai where the farangs go to with their big bikes. The Piston Shop. The owner, Nat spoke excellent english. So I googled them up and called Nat, and told him about my situation. Over the phone, he told me that he was willing to take a look at the bike, although he wasn't confident of getting the parts. I told him that I should be able to source the parts from Singapore if necessary, but I just needed someone who is willing to take a look – the 2 only shops here in Pai weren't willing to.
He said, okay!
But now I needed money. I was running low on THB, but still had some healthy amount of USD with me. I had tried buying some THB in the morning, and although it's a Friday, it happened to be a bank holiday and all the banks are closed. Oh great! And so I asked the owner of the restaurant where I could get some money changed, and they directed me to the Walking Street in Pai.
"Can I walk there? Is it walking distance?"
"No. You motorbike."
"But my motorbike is broken. =("
"Okay. I motorbike you there."
"Thank you soooo much! Kor pun kup!!"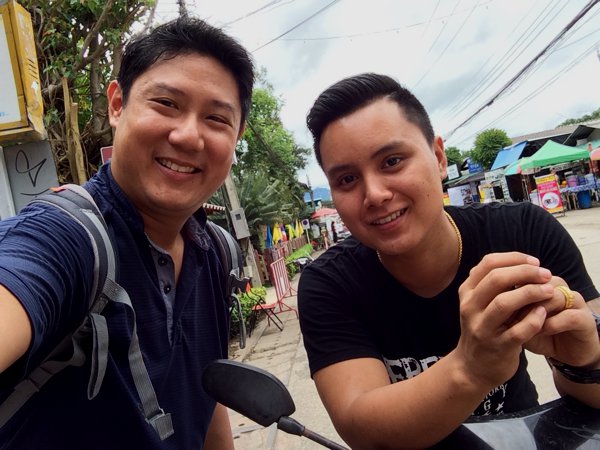 So with sufficient Thai baht in hand, I went back to the 2nd bike shop and requested his help to arrange for the trip to Chiang Mai.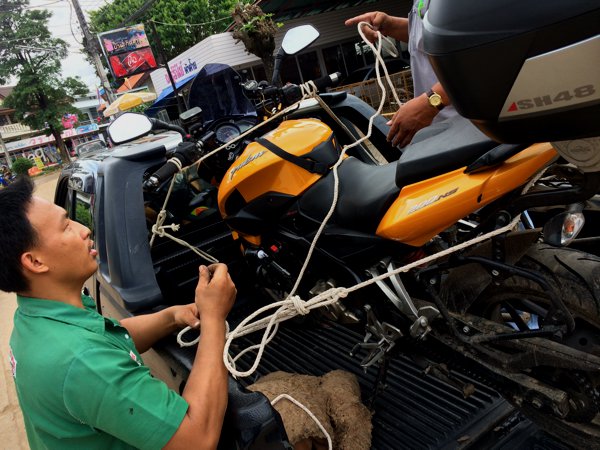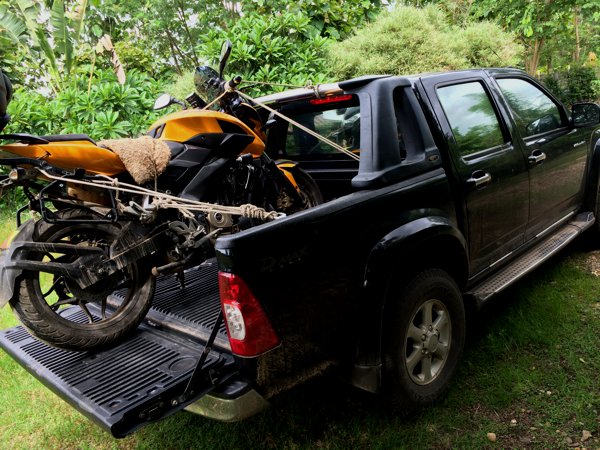 It was 3'ish when we left Pai. And the journey will take some 3 hours or so. I called up the Piston Shop in Chiang Mai, and the owner, Nat, told me that he normally closes at 6, but will wait for me until 6:30pm. We were cutting it really close. The truck driver spoke to Nat on my mobile to ask for directions and understood the deadline.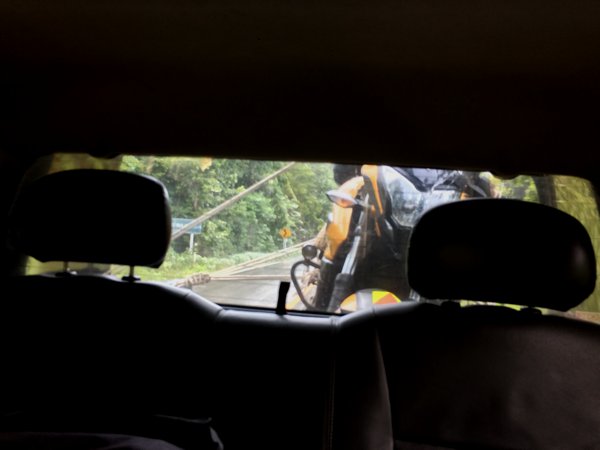 After days of riding the Mae Hong Son loop, it felt surreal and so different doing the final leg in a 4-wheeler. The route from Pai to Chiang Mai was similarly mountainous and windy. But at every bend, instead of leaning into the bend as I've gotten so used to by now, I was actually leaning AWAY from the bend due to centrifugal force. So different. So different.
We reached the fringe of the city of Chiang Mai at approximately 6pm. But we still needed to make our way to the shop. The truck driver was quite literally making a mad dash for the shop as he weaved through (admittedly quite crazily) the evening peak traffic.
I called up Nat to confirm that we were super near. Just stuck in traffic. He promised to wait till 6:30pm.
We finally arrived! 6:25pm on my watch. Phew!
Unloaded the bike, paid the driver 2,700THB (2,500THB for the "taxi" rental and 200THB for gas), and handed the bike to Nat and his workers. He tried cranking the bike, and it still wouldn't start. Took a quick look and listened to the sound of the engine while cranking. He suspects an engine issue. Not electrical.
Nat's the third mechanic to tell me an engine failure. Oh no. Not good.
Left the bike at the shop and lugged my 85L duffle to a nearby hotel. At least I managed to get to Chiang Mai.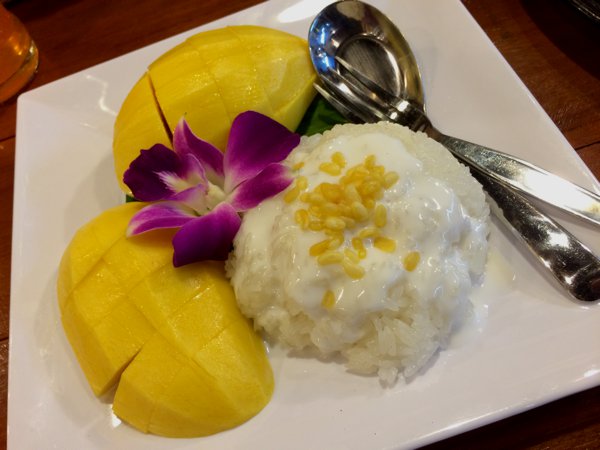 We'll see what happens tomorrow, Saturday. Oh no. This just have to happen so near a weekend. Bummer.