Had some time today and so I decided to go for the hazard light switch mod. Found a nice place on the left mirror stem to mount the switch. Wiring was pretty straightforward.
Opened up the head unit by removing 4 large bolts on the side of the head unit – 2 on the left and 2 on the right.
Then locate the signal lights connectors – the grey and green 2-pin connectors (see pictures). All you need to do it to tap any 2 of the switch wires into the GREEN and GREY wires. Note – Do NOT tap into the black/yellow wire – that's GROUND and you'll end up with a short circuit. 
The third switch wire is meant to be connected to the flasher relay output. I tried to wire it to the bike's existing flasher relay's ORANGE wire, but it didn't seem to work. Perhaps I may need a separate flasher for this.
But nevertheless, even without the 3rd wire connected, when the hazard switch is depressed AND any of the signal light is activated (either left or right, it doesn't matter), the bike now blinks all 4 signal lights. So effectively, it's a 2-step hazard light process.
My initial intent was to have the hazard switch blinking all signal lights WITHOUT having to use the signal switch. Was tired at the end of this exercise. Didn't want to troubleshoot anymore. Perhaps I'll add on a flasher relay to make this happen at another DIY session.
UPDATE: The wiring at the flasher relay output was not connected properly. Reseated the wire and it now works! Hazard light WITHOUT needing to turn the signal switch!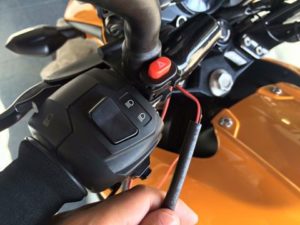 Location of the hazard light switch.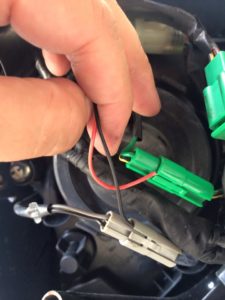 The left and right signal lights connector within the headlight unit. GREEN and GREY for 12v signal, and BLACK/YELLOW is ground.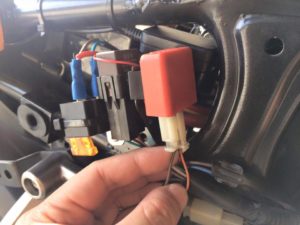 The red module here is the flasher relay. Located on the right hand side of the bike. The BROWN wire is 12V and ORANGE wire is the output.
BTW, I tapped the BROWN wire for 12V "ignition ON" in a separate project. This wire provides 12V only when the bike switch is turned ON.