I'm a huge proponent of hearing protection while motorcycle riding. Long exposures to elevated noise levels WILL permanently damage hearing. And it's not so much of the engine or exhaust noise, but the wind noise generated when riding at speeds that is blasting at the rider's ear drums.
Some of you may have known that I had a poor experience with Pinlock's motorcycle riding-specific earplugs. While they DO filter out the wind noise while keeping conversations legible really effectively, they get very uncomfortable after a long ride. My ears would hurt. And I wasn't the only one experiencing this – 2 of my other riding buddies had a similar discomfort experience with Pinlock.
While 3M disposable foam earplugs seal noise EXTREMELY well, I didn't like it that it blocks voice conversations too well too. The 3M foam'ies also makes it difficult to hear through my Sena 20S bluetooth communicator. So there I was on a quest to search for the perfect motorcycle riding-specific earplugs that come with a tuned noise filter. And then I found these…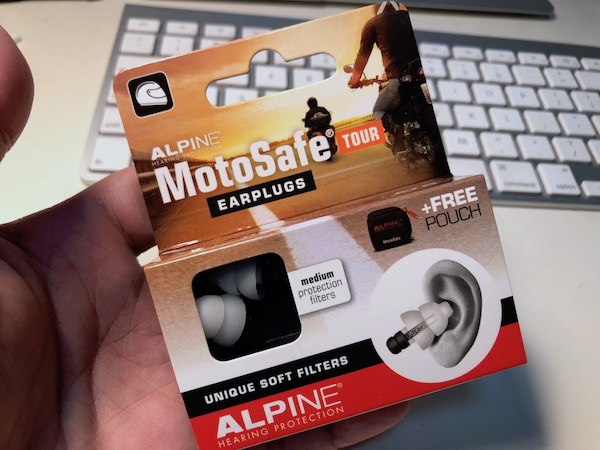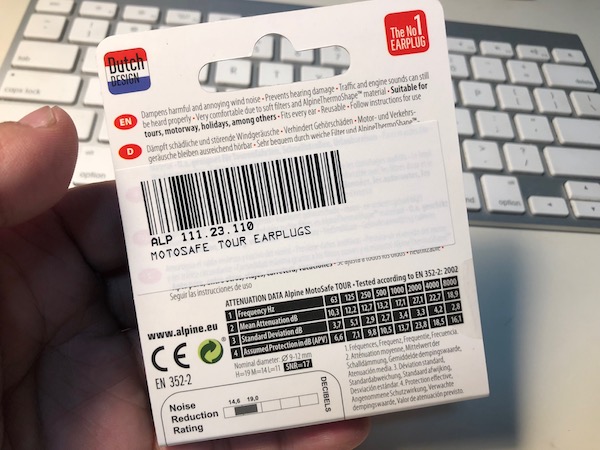 The Apline MotoSport earplugs come in 2 versions – Tour and Race. While the Race version seem to have slightly better noise reduction rating (NRR) – blocking out more engine noise, the Tour version was specifically built for motorcycle touring and would likely be easier to hear conversations with the plugs stuffed inside the ear canals.
The Alpine MotoSport Tour earplugs, like the Pinlock ones, come with a noise filter. This specially-tuned filter blocks out unwanted noise (such as wind, engine, exhaust), and allows in the "wanted" sounds – conversations, sirens and horns. And it works really well!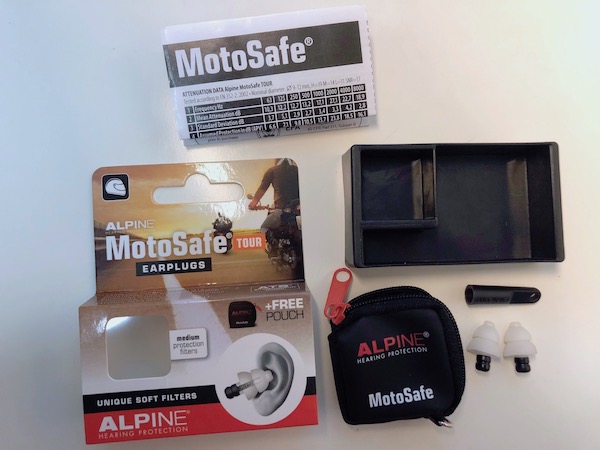 The package contents appears very complete – it even comes with a soft pouch for carrying the earplugs! Also include is a plastic applicator tool. Now, because the earplugs are completely soft, I found it initially difficult to insert them into my ears properly and have a good seal. The included plastic applicator tool made it easier to put them on. But I must add that after a few applications and getting used to the earplugs, I now no longer require the plastic applicator to put on the plugs and yet have a good seal. But in any case, kudos to Alpine for including it!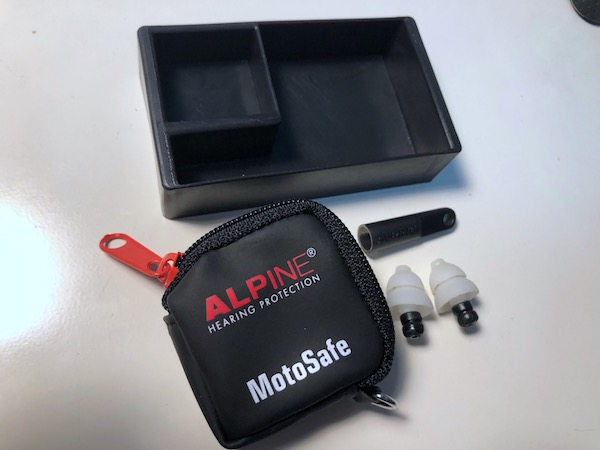 Yes, the ENTIRE ear plug is made of some super-soft, super comfy silicon-like material. There are no hard bits at all. And unlike the Pinlocks, nothing needs to be removed before washing them in warm soapy water for easy regular maintenance and hygiene.
I've taken them on touring and some long rides. There was even a recent whole-day  1000 Corner Malaysia ride where I had the MotoSafe earplugs on almost the entire day. They remained soft, comfy and my ears didn't hurt at all. Nothing! Zilch! Not even a little sore!
So, if you don't mind spending $35, and if you're looking for some super-comfy, reusable motorcycle-specific ear plugs that blocks out unwanted noise while letting in the "wanted" sounds, give the Alpine MotoSafe Tour earplugs a go!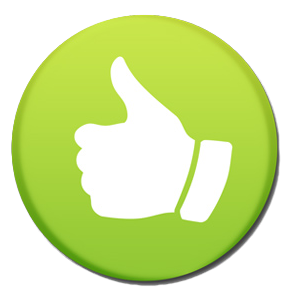 sgBikerBoy HIGHLY Recommended!