The last 11,000km brought me through various kinds of roads – good roads, bad roads, dirt roads, potholes, gravel, off road, bumpy roads, grass, and almost every other variety of bad Asian road. Also together with the fall in northern Laos, there are several stuff I had planned to replace when I'm back in Singapore.
Yesterday, being a national holiday, most shops weren't opened. So I took the opportunity today to get some bike parts replaced:
1. NEW KAPPA K22N PANNIERS
I loved my Givi E22N panniers. They have ample storage for day-to-day use, yet slim enough to maintain lane splitting abilities. I've reviewed them earlier here. But it took just 1 fall in northern Laos to break the right side of the case. So now that I'm back in Singapore, I went searching for its replacement.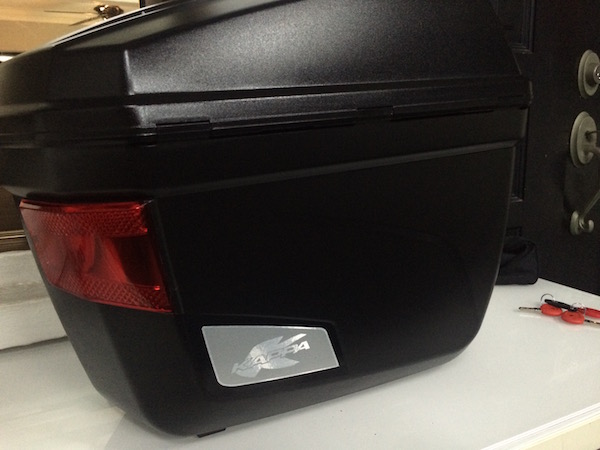 Lim Ah Boy in Kelantan lane sells the Kappa K22N's instead ($120). They're slightly cheaper than the Givi's I got, but are identical in every aspect other than the label on the side of the case. I suspect the locks on the case are made by Givi – it even has a "GVxxxxx", Givi's monolock system, engraved on it! And the keys are identical to Givi's too!
2. HEAVY HANDLEBAR BALANCER
Due to the same fall, the right hand side of my handlebar balancer was badly scratched. The ones I had were aftermarket versions. So I got a pair of replacements from Lim Ah Boy for $20.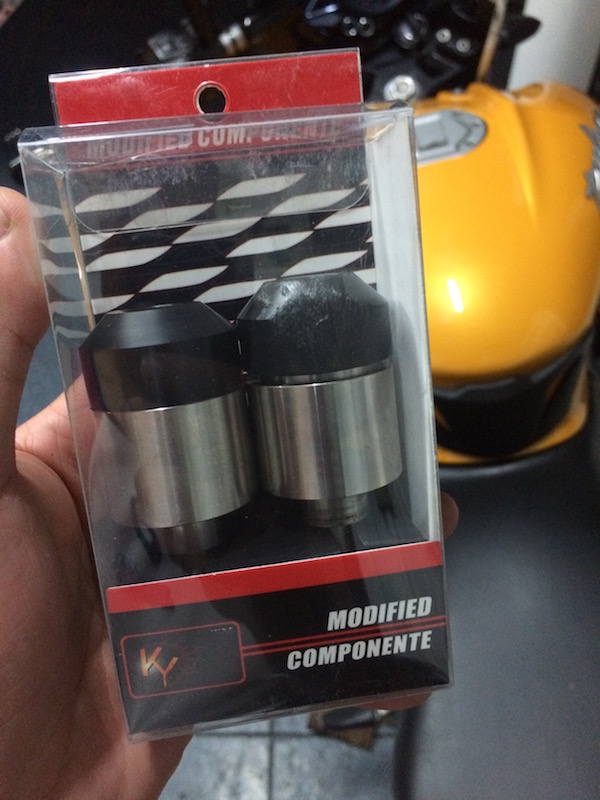 3. NEW TIRES – THE PIRELLI ANGEL CITY
My set of Michelin Pilot Streets have done some 17,000km's, including the horrible roads during my SE Asia tour. The ultra uneven Asian road surfaces that I've travelled on has taken it's toll on these excellent tires. In fact, when I was in Penang, a fellow biker pointed out to me the unusual wear on the rear wheel (I was in a Givi store then and showing him my Pulsar 200NS). While on the centre stand and as the rear wheel spins, the outer circumference of the tire actually "shimmies". (I later learnt that it's probably "scalloping" or "cupping" – perfectly normal tire wear pattern.)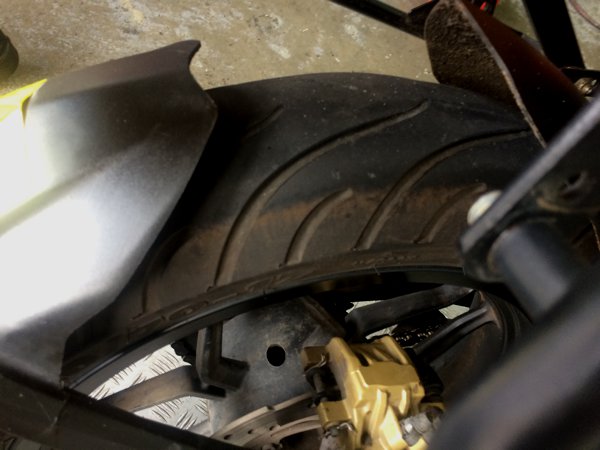 Anyway, it was time for new tires, and Unique Motorsports was running a promotion on the Pirelli Angel CiTy. A set of 110/70R17 front and 140/70/R17 rear went for $155. The Pirelli Angel CiTy or Angel CT was designed by Pirelli specifically for the Asian "small bikes" market – targeting at bikes around the 150-300cc range – who wants to upgrade from the OEM tires. The thread pattern and tire design was inspired by and derived from the Pirelli Angel GT, renown for it's touring capabilities. But the Angel GT's were built for bigger bikes. The Angel CT was also specifically designed for the "Asian roads" – being able to take the abuses of the various uneven roads that rural Asia has to offer. Pirelli promises a robust carcass design, high durability on any kind of road, and extended mileage on the Angel CT. Think of the Pirelli Angel CT as a set of touring tires for the smaller (up to 300cc) bikes – perfect for my Pulsar 200NS!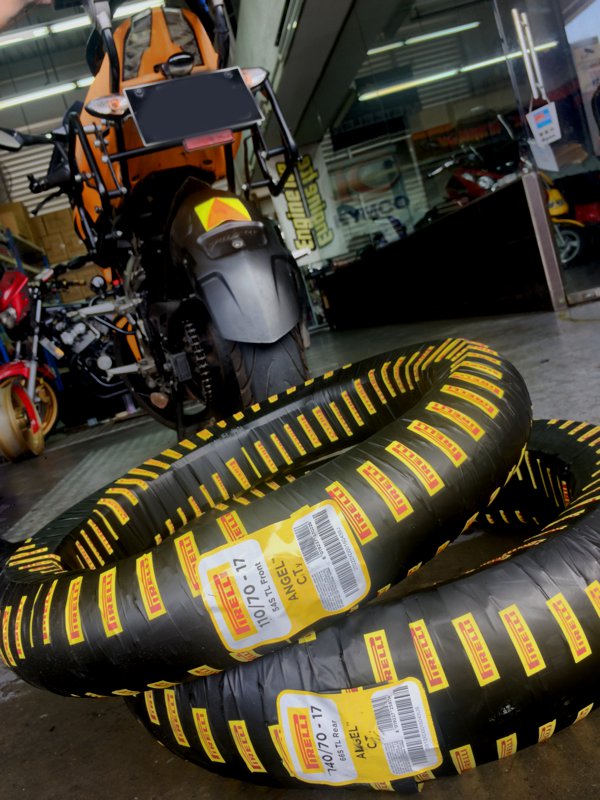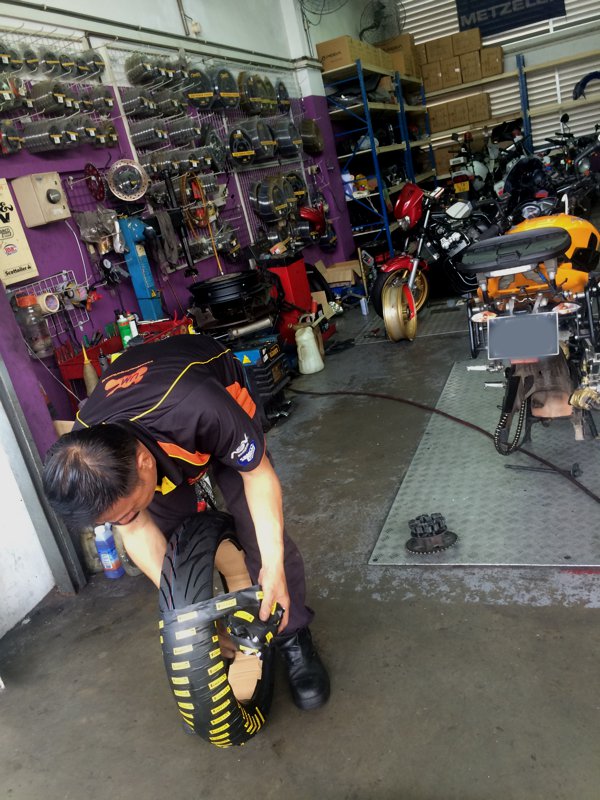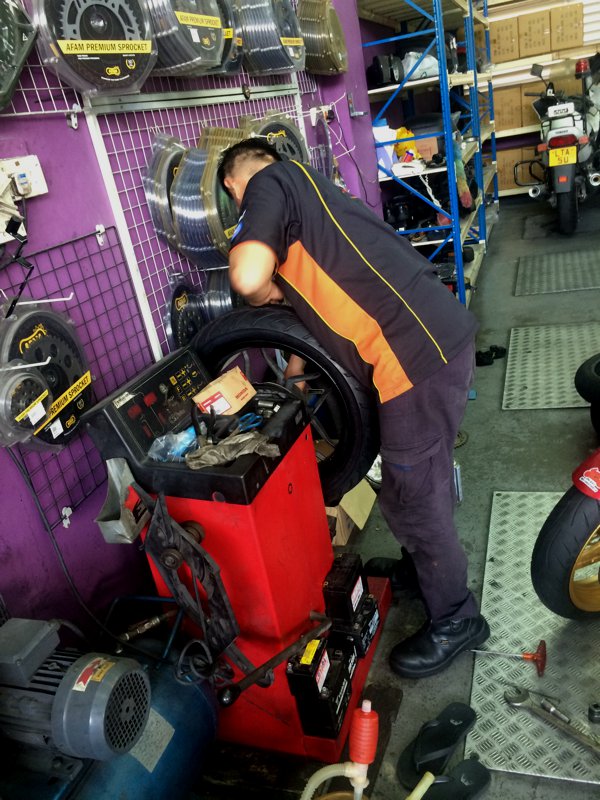 4. NEW SPARK PLUGS AND RIGHT SIDE PANEL
My set of 3 spark plugs (yes – 3 plugs on a SINGLE cylinder) have served me well over the last 11,000km. I've brought a set of spares for the trip which I didn't get to use. So I dropped by Universal Motors to get them replaced. The nice people at UM didn't charge me for labour to replace the plugs as they remembered that I purchased the set from them (which typically includes the cost of installation) before I started my trip.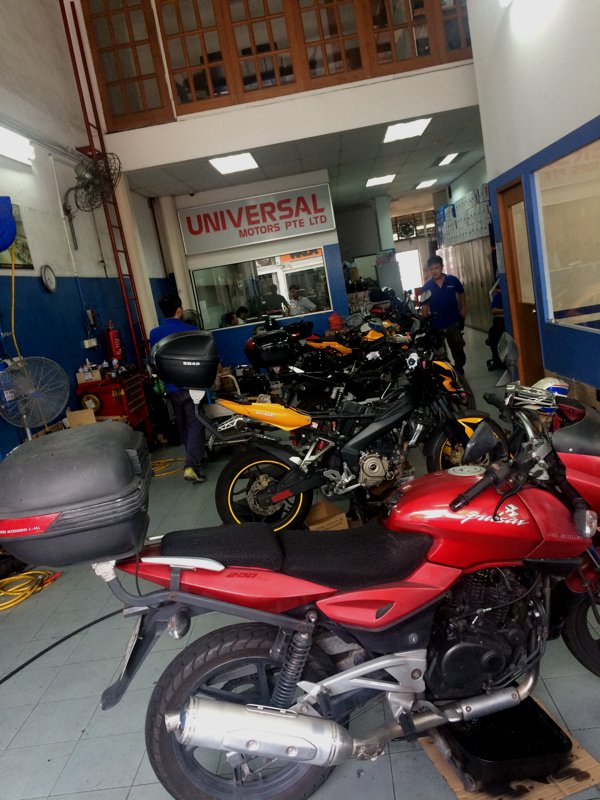 And while fixing up my spark plugs, the UM mechanic noticed the right side slave plug's rubber grommet is worn. Got that replaced too. Also, my right hand side panel broke at the bottom mount, and will rattle when the bike's in motion. Replaced for about $32, I think.
I then swung by the other Universal Motors workshop where they typically service bikes other than Pulsars to get a rubber grommet for my Givi mount replaced, and met Michael there – the big boss of UM. (I did my Givi pannier mounting brackets install there.)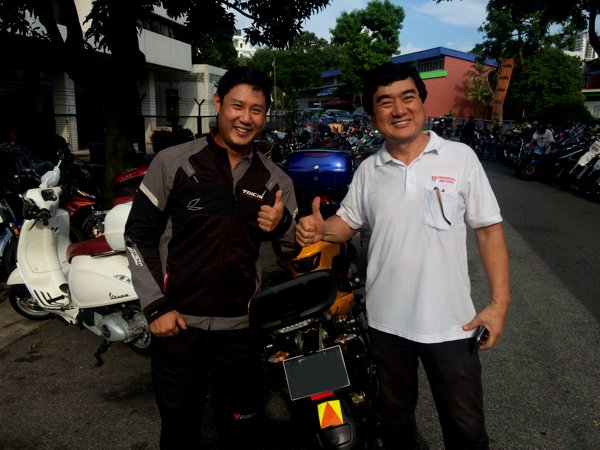 Apparently, Michael was aware of my recent Asia tour as the Bajaj HQ guys who happened to be at the Phnom Penh branch whatsapp'ed him about this crazy Singaporean who rode up to Cambodia. Woah! What a small world!
Okay… That's it! Stop! Enough! No more spending on the motorcycle! (For now.)