This…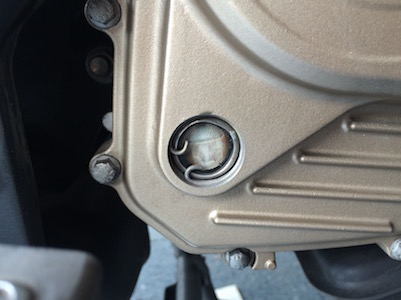 ..and this…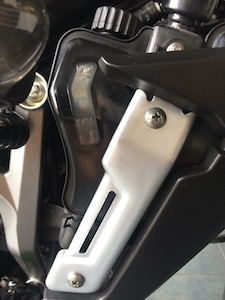 ..means trouble.
After a morning ride, I spotted the oil turning milky brown. Oh no! Then a quick check on the coolant level showed the overflow reservoir almost empty. OH NO NO!
Not good. I have previously experienced this on my car – then a 13-year old beat up Honda Civic. It was an engine head gasket failure. Repairs not only took some time, but was expensive. So the first thought that went through my mind was a long'ish downtime and expensive repair.
So I did some quick research on the internet and found that the likely cause of this is a failed oil seal within the water pump. Not too difficult to replace, but the challenge is to get all the water out of the oil system. Being a Saturday before a long weekend (Monday is Labour Day holiday), I called up UM to check if they were opened. Yup – and I went there immediately to get this sorted.
I hate going to UM. Don't get me wrong – those people are nice. And very knowledgeable too. They also have very reasonable prices there. So why? Reached there around 1:40pm, and it was only around 4'ish that my bike got some attention. These poor mechs there are overworked, and the bike queue is typically long. The wait is always a couple of hours – sometimes even for a simple job.
---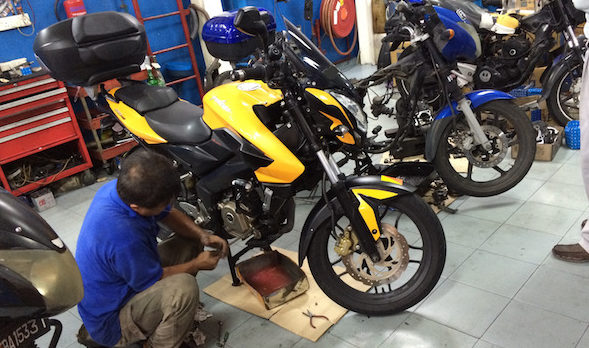 My 200NS getting some love.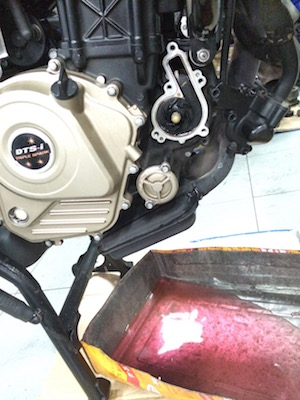 Opened water pump. And, yup! That's 1-week old coolant that will be dumped. Wasted grape juice. So sad.
---
So after some fiddling, the good guys at UM got my water pump oil seal replaced. I also took the opportunity to replace the oil pressure switch as it was giving me false low oil pressure warnings. And since the carburetor was out, also used the opportunity to get it cleaned up and serviced.
I specifically instructed the mech to fill the radiator with plain water for now, as I wanted to make sure that the oil seal replacement solved the problem before I put in proper coolant. Will monitor it for a few days before I replace the plain water with my half-bottle of remaining Maxima Cool-Aide.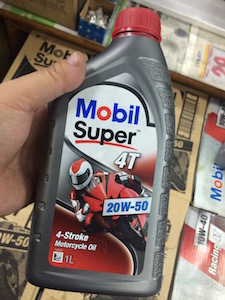 Also, the mech recommended that I used "cheap" mineral oil for now and the next 1 or 2 oil changes (at reduced intervals). This was so to flush the engine and clutch systems off the old coolant-mixed concoction. So I've "downgraded" my Lupromax Razor 4T fully synthetic to this Mobil Super 4T 20W50 for now. I intend to change this out in the next 1 or 2 days to flush out the system.